J.C. Penney Will Hire 35,000 Temps for Shopping Season and 2 Other Hot Stocks to Watch
J. C. Penney & Co. (NYSE:JCP): Current price $10.45
J.C. Penney shares are down more than 15 percent in heavy volume Wednesday on worries about its searching for added funding, but the historic retailer is getting ready for the upcoming shopping season, along with all the other big stores. According to Reuters, the company intends to hire 35,000 temporary staff members for the season. Penney's has had a rough time lately — with executive changes and the Bill Ackman drama — and its shares have plummeted by around 43 percent this year to date from declining revenues and higher losses.

Mako Surgical Corp. (NASDAQ:MAKO): Current price $29.50
The Associated Press reported on Wednesday that Stryker Corp. will purchase Mako Surgical and all of its robotic-assisted surgery tech for $1.41 billion. Mako shares are up by more than 82 percent in extremely heavy morning trading. The buyer will pay $30 per Mako share, marking an 86 percent premium to Mako's $16.17 close on Tuesday. The parties place the transaction's value at around $1.65 billion. Mako has roughly 47 million outstanding shares, according to FactSet.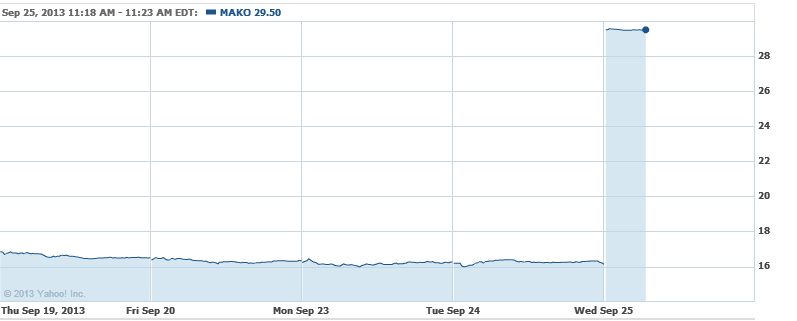 Rite Aid Corp. (NYSE:RAD): Current price $4.79
A judge in San Joaquin County Superior Court has ordered Rite Aid to pay in excess of $12.3 million to resolve a civil lawsuit which claimed that 600 of its California stores handled and disposed of hazardous waste improperly, according to the Los Angeles Times. Shares are down around 2.4 percent Wednesday in heavy volume.

Don't Miss: Burger King: Full-Fat Fries Are So Last Season