JCP's Newest Firestorm? A Teapot That Looks Like Hitler
J.C. Penney's (NYSE:JCP) problems resurrecting its public image are infamous. However, recent problems have come from an unexpected source: a billboard standing alongside the 405 freeway in Culver City, California has spawned a controversy. A stream of complaints circulating the Web and collecting on Twitter and Reddit pointed out to the retailer that the image of teapot used in the advertisement bore a strong resemblance to the late leader of Nazi Germany, Adolf Hitler.
"Several customers have taken to the Web to complain about a J.C. Penney billboard that's next to the 405 Freeway in Culver City," reported the Without A Net blog on the website of southern California public radio station KPCC on Tuesday. "The problem: It kind of looks like Hitler."
The billboard in question promoted the Bells and Whistles Stainless Steel Tea Kettle, which was designed for J.C. Penney's home goods collection by Michael Graves. However, to some customers, the black detailing on the kettle were seen as reminiscent of Hitler's iconic black mustache and his severely parted hair. Meanwhile, the spout of the kettle — which featured a small, brass-colored bell on its top — looked like a right arm raised in a Nazi salute.
On Reddit users posted a link of the image titled: "The JC Penney Hitler Tea Kettle, spotted just east of the southbound 405 in Culver City." The image showed one clear picture of the billboard juxtaposed with a blurry picture of the advertisement where the resemblance is more pronounced.
"Totally unintentional," tweeted a J.C. Penney spokesperson Tuesday regarding the kettle and its advertisement. "If we'd designed the kettle to look like something, we would've gone w/a snowman

". The tweet included a picture of just such a product to illustrate that point. But elsewhere on Twitter, the "Hitler teapot" has caused both waves of anger and of amusement. Some have even reworked the lyrics of "I'm a Little Teapot" to include references to Hitler.
Along with a comment pointing out the resemblance, one twitter user, Jeff May, posted this picture: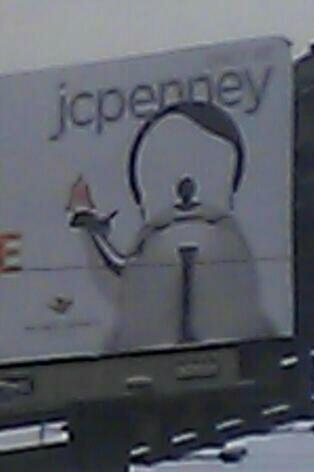 According to ABC-7 in Los Angeles, the billboard has been taken down, and the product is also no longer available on the company's website, although that may be because it has sold out. However, the reviews are still accessible. The first review, filed under the heading "Mein Tea Kettle," noted that while its stainless steel exterior makes it easy to clean, the fact that it "looks like Hitler" was a con.
Still, the resemblance is contested. A poll of KPCC's Without a Net readers showed that 31 percent believed that the Culver City billboard looked like Hitler. Nearly a quarter of respondents said, "No, people are just imagining things."
Follow Meghan on Twitter @MFoley_WSCS
Don't Miss: Nike Is Kicking the Livestrong Band.