Jeff Bezos Funds Former Amazon Cheerleader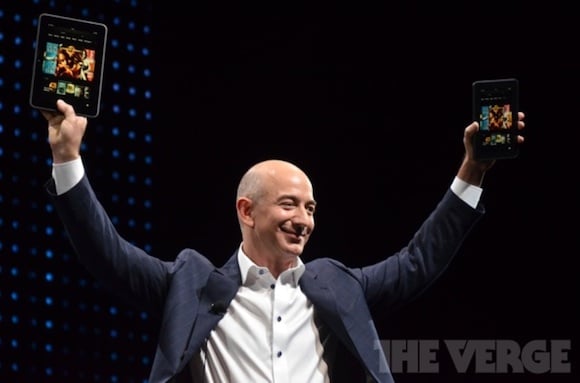 No one can say Jeff Bezos forgets a favor. The chief executive of Amazon (NASDAQ:AMZN) is investing $5 million in Business Insider, the online news site run by Henry Blodget. Their relationship dates all the way back to dot-com boom times, when Blodget worked for Merrill Lynch, and Bezos was trying to push his company forward in the emerging e-commerce industry.
When few believed Amazon could push past its $240 a share (in late 1998), Blodget took a bullish stance on Bezos's company, saying he saw $400 on the horizon. Though countless Wall Street insiders chuckled at the idea, Blodget's prediction was realized a short time later. Now Bezos is showing his confidence in Blodget's six-year-old news site, which is still struggling to hit profitability.
According to Bloomberg, Business Insider brought in $10 million in 2012, representing a loss of $3 million. Bezos's considerable investment will push the site's funding to $18.3 million, though it is unclear if that will take Business Insider into the black. Bezos, the 21st richest person on earth, brings unparalleled name recognition to the table.
Since Blodget stood alone for Amazon in the late 1990′s, many see the investment by Amazon's investment arm as a favor returned by Bezos, who is an avowed Business Insider reader and a huge fan of nontraditional media. Blodget has been in the news of late. Ken Auletta published a piece in the April 8 New Yorker on Blodget, who was forced out of his Wall Street job in 2003 following an investigation by the SEC. He has been trying to repair his reputation ever since and is reportedly hoping for a chance to return to analyst work some day.
Bezos was similarly bruised after the dot-com crash, yet he is powered his company back to its current robust health. Amazon stock has been steadily rising since 2009 and is near its post-recession high. Meanwhile, Bezos is looking to other investments in media through Amazon Studios, which will launch its own set of TV-style shows this spring. If the shows are reviewed on Business Insider, Blodget maintains readers will know about the potential conflict of interest: every article mentioning Amazon or its chief executive will include a mention of Bezos's investment.
Don't Miss: Is Facebook Turning Its Back on Apple?