Jefferies Group Inc. Earnings Cheat Sheet: Profit Declines
Jefferies Group Inc. (NYSE:JEF) posted lower net income in the second quarter compared with a year-earlier period. Jefferies Group, Inc. and its subsidiaries operate as independent, full-service global securities and investment banking firm serving companies and their investors.
Don't Miss: Wall St. Cheat Sheet's newest Feature Trades of the Month!
Jefferies Group Earnings Cheat Sheet for the Second Quarter
Results: Net income for Jefferies Group Inc. fell to $80.6 million (36 cents/share) vs. $83.8 million (41 cents/share) a year earlier. A decline of 5% from the year earlier quarter.
Revenue: Rose 8.3% to $727.2 million YoY.
Actual vs. Wall St. Expectations: JEF fell short of the mean estimate of 40 cents/share. Estimates ranged from 33 cents per share to 44 cents per share. Analysts were expecting revenue of $726.9 million.
Quoting Management: "We are very pleased with these solid results, which reflect our continued momentum in investment banking, and the durability of our sales and trading platform, despite the challenging market environment that persisted throughout the quarter," commented Richard B. Handler, Chairman and Chief Executive Officer of Jefferies. "While we have much more work to do, we are pleased with our team, our strategic position, our diversified business mix, and our integrated approach to delivering one firm for the benefit of every client."
Competitors to Watch: Greenhill & Co., Inc. (NYSE:GHL), Piper Jaffray Companies (NYSE:PJC), Rodman & Renshaw Capital Group Inc. (NASDAQ:RODM), Goldman Sachs Group, Inc. (NYSE:GS), JMP Group Inc. (NYSE:JMP), Morgan Stanley (NYSE:MS), Bank of America (NYSE:BAC), Citigroup (NYSE:C), JPMorgan Chase (NYSE:JPM), Wells Fargo (NYSE:WFC), Evercore Partners Inc. (NYSE:EVR), Merriman Holdings Inc (NASDAQ:MERR) and KBW, Inc. (NYSE:KBW).
Stock Performance: Shares of JEF are down .71% today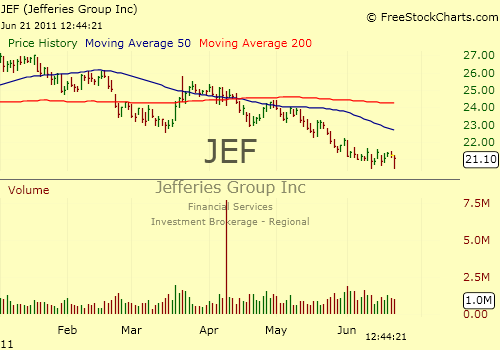 Don't Miss Wall St. Cheat Sheet's newest Feature Trades of the Month!
(Source: Xignite Financials)