Jim Cramer: Buy These 4 Stocks and Sell This 1 Stock Now
Ford (NYSE:F) — "I think Europe is bottoming out. Ford is a buy."
It's unsurprising that Cramer is currently bullish on Ford. America's second-largest automaker managed to grow the value of its common stock over 800 percent — from about $2 per share to more than $18 — between October 2008 and January 2011. Ford touched its post-crisis high at about the same time General Motors (NYSE:GM) launched its IPO, and the malaise of government involvement combined with GM's competent turnaround strategy helped drag Ford stock into a valley from which it is just now climbing out.
Shares are up more than 47 percent on the year, and Cramer has spoken bullishly on the stock since October with the exception of a period between the end of February and the beginning of April, when the stock pretty much moved sideways. Since then April 3, shares are up nearly 19 percent, and are up 9 percent since Cramer's last Buy recommendation on May 3. Technically, the stock is performing very well. (Read our latest Ford stock Cheat Sheet here.)

Asked about the stock during the Lighting Round of Mad Money on May 15, Cramer identified what is hands down the largest roadblock for the company: Europe. Ford posted a full-year loss of $1.73 billion in the region, and CFO Bob Shanks indicated that the company could lose another $2 billion in 2013. For some perspective, fourth-quarter pre-tax profit (including losses from Europe) was $1.7 billion.
The Fuel: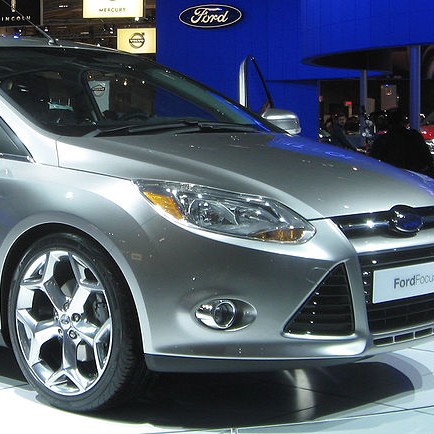 Ford, and much of the auto industry, has been sitting on a heaping stockpile of positive catalysts just waiting to explode. The post-crisis recession devastated economies around the world and substantially reduced consumer demand in all of Ford's major markets. Only in the last year have the recoveries in the United States and China begun to really pick up steam.
Buoyed by record sales both at home (+18 percent on the year in April, the best since 2007) and in China (annual wholesales up 21 percent in 2012), Ford has beaten analyst earnings expectations four quarters in a row and transitioned from being an American heart breaker in 2011 to a heartthrob in 2012 (read more). The company is expecting to increase sales in China by 50 percent by 2015.
Ford's recent success has been built in part on the back of the company's line of high-efficiency, high-power engines that were featured in the EcoBoost challenge. In more ways than one, Ford is out-gunning domestic and foreign competition and is increasing its brand value as fast as its sales (read more).
The Road Block:
The European Automobile Manufacturers' Association reported that car sales in Europe rose 1.7 percent in April, the first gain since September 2011. It's worth pointing out that even this minor victory is undercut by two additional working days this year than in the comparable period, which accounted for most of the increase. In absolute figures, it was a third-lowest level of new registrations for any April on record. For the first four months of the year, new car registrations were down 7.1 percent.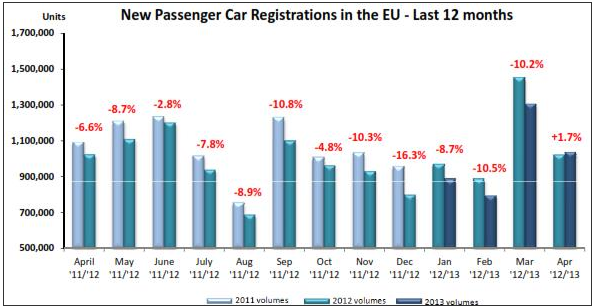 Overcoming market conditions in Europe has been and will continue to be Ford's largest challenge of the post-recession era. CEO Alan Mulally is expecting a return to profitability by 2015, a timeline that leaves the European consumer about a year to recover after gross domestic product is expected to return to positive growth.
Google (NASDAQ:GOOG) — Buy recommendation
Cramer called it a "Tale of Two Cities" on May 15 when he featured Google on Mad Money, and spent some time comparing the Internet and tech giant to its peer and rival Apple (NASDAQ:AAPL). It's not an entirely equitable comparison, but the two companies have been pitted against each other by analysts and investors in a bitter fight for market dominance, currently focused on smartphones and software ecosystems.

Google stock has climbed more than 48 percent on the year, and has more than tripled the return of the S&P 500 over the past five years. Like Ford, it is a company positioned to succeed in step with broad recoveries in economies around the world, particularly in developing nations. Samsung (SSNLF.PK) and other manufacturers have carried Google's Android operating system into the hearts of emerging markets, where Apple has had a more difficult time gaining a foothold. The real kicker here is that Google has an ally in the South-Korean conglomerate, while Apple has a competitor. Advantage: Google.
But continuing the smartphone conversation in a superficial way is equivalent to beating a dead horse, and it only represents part of Google's narrative. As Cramer points out, the company has a myriad of projects up its billowing sleeves. Some are speculative — like Google Glass and driverless cars — while others represent untapped revenue streams thought to be as deep as $20 billion — like YouTube. Recently, the company revitalized its online payments initiative (read more).
Cramer dedicated a lot of time on air talking about how Google's valuation relates to its growth. As it stands, the company trades at about 27 trailing twelve-months earnings and does not pay a dividend. Investors have had a pretty difficult time reaching a consensus on exactly how much the company is worth, and the popular go-to bullish call on the stock right now is $1,000 — 10 percent higher than its closing price on Monday and 8.9 percent higher than the mean analyst estimate.
At issue is the company's growth. For much of 2010, Google's earnings and revenues seemed to grow in lock step. The top line began accelerating away from the bottom in 2011, and come the third quarter of 2012 revenue growth had increased to an insane rate while earnings growth had slowed down dramatically.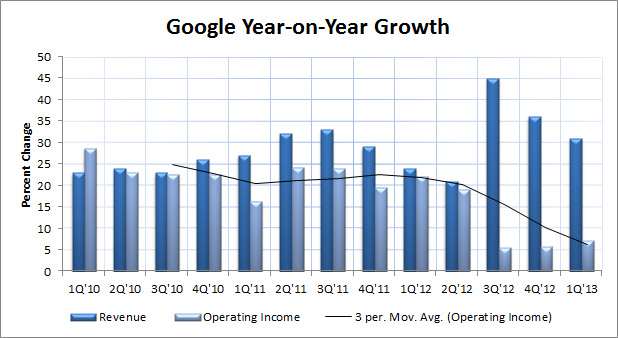 Netflix (NASDAQ:NFLX) — Buy recommendation
Cramer has been speaking positively about Netflix since January. The last time he had a sell recommendation on the streaming video service was November of 2012. The stock proceeded to shoot up more than 27 percent before he mentioned it up again in January and backpedaled on the negativity. He pegged the stock with a Buy recommendation early in February when he featured the company on his show, and the stock has come up 37 percent since. (Read our latest Netflix stock Cheat Sheet here.)

There's no hiding that Netflix has been on a tear recently, but it's important not to let the rally mask some potential downside risks that the company faces. With Google's myriad probing fingers in the technology market, and with YouTube in their pocket, it's no surprise that the technology titan recently announced that it will be launching a paid subscription service for its video-streaming property.
It's unclear exactly what this means for Netflix, but it seems safe to say that if you're an Internet/technology company, you don't want Google as a competitor. Netflix is certainly no amateur, but YouTube subscription service is definitely worth keeping an eye on. As it stands, Netflix is sitting pretty with superior content and, presumably, lucrative goodwill and the relationships necessary to acquire more content moving forward. Subscribers are definitely one front on which the companies can battle for superiority, but it looks like it will be a while before tradition television and movie content producers shack up with YouTube.
"While hugely popular, the linear TV channel model is ripe for replacement."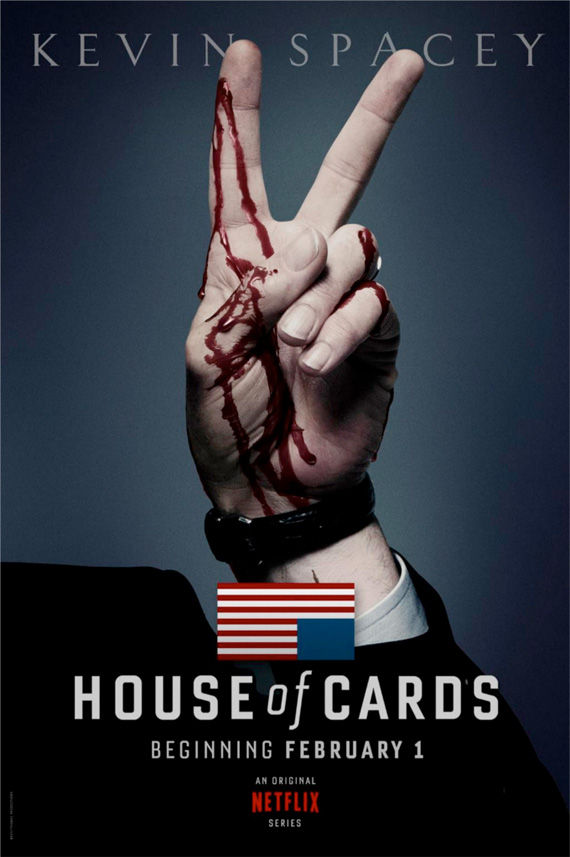 Netflix CEO Reed Hastings issued that statement as part of a conversation about the future of television. Explaining his position, and articulating one reason why Netflix is trading at such a high price-to-earnings (about 585x), he said: "People love TV content, and we watch over a billion hours a day of linear TV. But people don't love the linear TV experience where channels present programs at particular times on non-portable screens with complicated remote controls.
"Consumers click through a grid to choose something to watch. DVRs and VOD add an on-demand layer at the cost of storage and increased complexity. Finding good things to watch isn't easy or enjoyable," he added (read more).
At the beginning of February, Netflix introduced its first original series — "House of Cards," starring Kevin Spacey and Robin Wright. By March 31, the day the company's first quarter came to a close, statistics showed that its gamble had paid off. As Netflix's April 22 earnings reportshowed, the company that once struggled to acquire content had attracted 3 million new streaming subscribers in the first three months of the year, validating its decision to develop its own content (read more).
Starbucks (NASDAQ:SBUX) — Buy recommendation
Cramer either brings up or is asked about Starbucks about twice a month. Over the past year, the vast majority of his conversation about the stock has been positive, reflecting the company's 19.4 percent year-over-year gain on the stock chart. The only negative mention was at the end of April, when the company's margins in China failed to impress the pundit. All told, he seems positive on the stock.
Starbucks currently trades at a trailing twelve-months price-to-earnings of 32. Shares are up more than 16 percent this year to date, edging out slightly better returns than the S&P 500. Overall, analysts are pretty bullish on the stock, although the mean price target is just 6.5 percent above the stock's closing price on Monday. (Read our latest Starbucks stock Cheat Sheet.)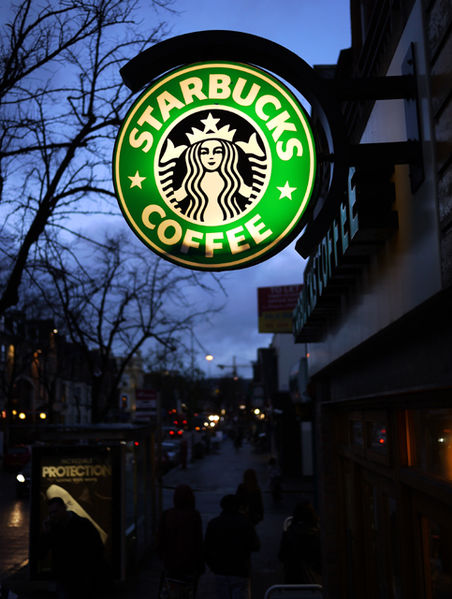 Starbucks gained some attention recently when news circulated that it was turning its attention towards Myanmar. As The Associated Press reported, the state in Southeast Asia has been "attracting interest from foreign companies and investors after economic and political reforms that have resulted in the European Union dropping sanctions against the country and the U.S. easing them," and Starbucks CEO Howard Shultz appears eager to take advantage of this (read more).
Toward the beginning of May, Starbucks and Green Mountain Coffee (NASDAQ:GMCR) — the company behind Keurig — announced a five-year extension to their existing partnership. The deal will triple the number of Starbucks-branded items sold for the Keurig single-serve coffee machines (read more).
Recently, Bernstein reaffirmed a $72 price target on the stock and an Outperform rating. The firm is expecting channel volume at Starbucks to re-accelerate, citing lower prices and improved innovation, and notes that the company has significant longer-term opportunities in China.
Starbucks has made several confidence steps into China over the past few months. The nation is one of the largest growing food markets, and the company expects it to become its second-largest market for coffee behind the U.S. Starbucks currently has 800 locations in the country.
Dell (NASDAQ:DELL) — Sell Recommendation
Cramer has only brought up Dell a handful of times over the past 52 weeks, and every single time he has reiterated his Sell position on the stock. Shares are off about 10.5 percent on the year, although are up 25.5 percent this year to date. Most of the stock action recently has been driven by the ongoing battle for control of the company, which is currently being wages between founder Michael Dell and activist investor Carl Icahn.

The company reported first quarter results that showed just how deeply the shrinking personal computer market had hurt its business during the last three-month period. The PC manufacturer reported Thursday that profit dropped 79 percent from the year-ago quarter, and revenue dropped two percent to $14.1 billion, slightly above analysts' expectations for $13.5 billion (read more).
That Dell's situation grew worse during the first three months of the year will come as no surprise to the industry. Nevertheless, the results will give a new perspective for the company's founder and Chief Executive Officer Michael Dell, and activist investor Carl Icahn in their separate attempts to buy out the company. Ever since rumors began circulating that Mr. Dell was preparing an offer to take the company private, the main question that has guided the analysis of shareholders, industry experts, and the company's board is how much should the company be valued, given the condition of Dell's key market (read more).
Don't Miss: Will $6.5 Billion Dividend Brighten GE Stock?