JinkoSolar Earnings: Monthly Results Not as Hot as Yearly Jump
JinkoSolar Holding Co., Ltd. (NYSE:JKS) a fast-growing vertically integrated solar power product manufacturer with low-cost operations based in China, today announced its unaudited financial results. Total solar product shipments were a record 208.4 megawatts ("MW"), compared to 162.6 MW in the fourth quarter of 2010 and 83.0 MW in the first quarter of 2010, representing an increase of 28.2% sequentially and 150.1% year-over-year.
Don't Miss: Wall St. Cheat Sheet's newest Feature Trades of the Month!
JinkoSolar Earnings Cheat Sheet for the First Quarter
Results: Net income was RMB336.6 million (US$51.4 million), a decrease of 8.6% sequentially and an increase of 358.6% year-over-year.
Revenue: Total revenues were a record RMB2.1 billion (US$326.7 million), an increase of 21.1% sequentially and 289.8% year-over-year, exceeding the Company's first quarter of 2011 guidance of US$280 million to US$290 million.
Quoting Management: "During the quarter, we achieved a historic high of 166.6 MW of solar module shipments, a sequential increase of approximately 50%. Although we expect the average selling price for solar modules to continue to decline in the second quarter, we are confident that we can gain additional market share from our competitors due to our vertical integration, leading cost structure and strengthened brand recognition. For the second quarter, we expect to see an increase of at least 14% in solar module shipments," said CEO Kangping Chen.
Key Stats: "As various solar markets and foreign government solar policies continue to develop, we believe the industry might experience short-term volatility across certain segments of the solar value chain in 2011. Our growth strategy, however, remains firm. We will continue to produce high-quality; affordable solar products with a focus on long-term development rather than making decisions based on short-term margin gains. We maintain our guidance for 2011 in terms of shipments, revenues and capacity expansion," concluded Mr. Chen.
Competitors to Watch: First Solar, Inc. (NASDAQ:FSLR), SunPower Corporation (NASDAQ:SPWRA), Suntech Power Holdings (NYSE:STP), Yingli Green Energy (NYSE:YGE), LDK Solar (NYSE:LDK), Canadian Solar Inc. (NASDAQ:CSIQ), Trina Solar (NYSE:TSL), JA Solar Holdings (NASDAQ:JASO), GT Solar International, Inc. (NASDAQ:SOLR), and MEMC Electronic Materials (NYSE:WFR).
Performance: JKS shares are down 0.77%.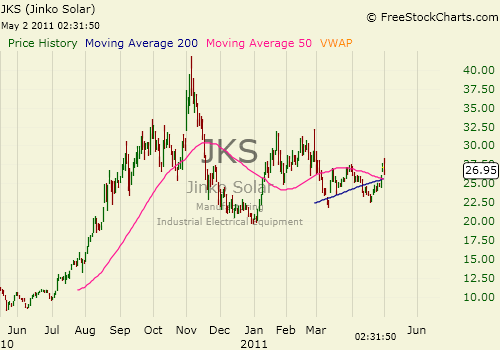 Don't Miss: Wall St. Cheat Sheet's newest Feature Trades of the Month!