J&J Continues 'Strategic Pruning' With This Divestiture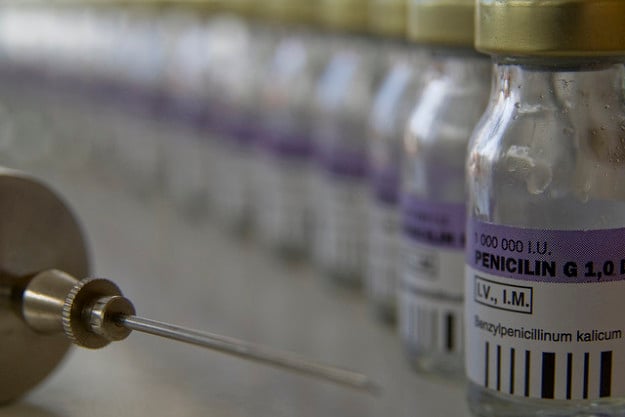 Johnson & Johnson (NYSE:JNJ), like many pharmaceutical manufacturers, must respond to increasing price controls abroad, patent expirations, and pressure on payments from insurance companies and the government. And like many of its peers, the company is choosing to divest one of its divisions: the Ortho Clinical Diagnostics unit that makes blood-screening equipment and laboratory blood tests.
On Thursday, private equity firm Carlyle Group (NASDAQ:CG) announced it purchased Johnson & Johnson's Ortho-Clinical Diagnostics unit for $4.15 billion, allowing the pharmaceutical company to divest the slow-growing business in order to focus on more lucrative products. Johnson & Johnson is my no means the only company spinning off business units, either. Pfizer (NYSE:PFE) divested its animal health products business, and Abbott Laboratories (NYSE:ABT) split off its branded drugs unit early in 2013.
It is Carlyle's largest health care investment since acquiring the nursing, hospice, and home health services provider Manor Care in 2007. "Through accelerated investment in research and product development and continued expansion into both emerging and established markets, we expect to tap into rising demand for sophisticated medical diagnostic products and services worldwide," said Carlyle Managing Director Stephen H. Wise in the press release announcing the purchase.
The deal is beneficial to Carlyle for the same reason it is unappealing to Johnson & Johnson: The Ortho-Clinical Diagnostics unit needs time and investment to mature. The diagnostic and blood testing unit is currently a small player in an industry dominated by Siemens (NYSE:SI), Roche Holding (RHHBY.PK), Abbott Laboratories, and Danaher (NYSE:DHR).
"Now with this divestiture nearly complete, we're inclined to believe [Johnson & Johnson] will continue to strategically prune its business segments and use the proceeds to return cash to shareholders or invest in higher-growth assets," Leerink analyst Danielle Antalffy wrote in a note acquired by Reuters.
The pharmaceutical industry is under pressure from a variety of sources. Profits are shrinking thanks to declining research and development productivity and intensifying pricing pressures, particularly in established markets where health care costs are increasing. Plus, the industry is facing greater competition from generic medicines as a number of successful drugs lose patent protection.
Problems with research and development have made it more difficult for companies to survive the expiration of top-selling drugs, and companies have resorted to two solutions: restructuring R&D operations and selling medicines in higher-priced niches.
Essential to both those routes are divestitures that make the company more efficient. For example, Merck (NYSE:MRK) has begun to reorganize its research and development operations. After seven years without a blockbuster drug, the company needed to rethink its inward-looking approach to the research and development of new pharmaceuticals, Reuters reports.
Compared to its rivals like Johnson & Johnson, Novartis (NYSE:NVS), and GlaxoSmithKline (NYSE:GSK), Merck has made fewer acquisitions deals than its competitors and kept more drug research and development in-house. That strategy has left Merck with a weak new-product pipeline.
Companies like Novartis, Pfizer, and Merck have also experienced steep drops in the volume of prescription drug sales because of patent expirations. To combat this problem, these companies are replacing more common medicines with treatments for rarer diseases, which have higher price points. Novartis' highest-selling drug was once Diovan, a treatment for high blood pressure, but now it is Gleevec, used for a rare form of leukemia. Lyrica, a treatment for neuropathic pain, is now the top seller for Pfizer.
Other companies like AstraZeneca (NYSE:AZN) and Bristol-Myers Squibb (NYSE:BMY) are turning to acquisitions to boost sales.
As for Johnson & Johnson, the company lost an estimated $2.27 billion due to two patent expirations in 2013, and Remicade, its autoimmune diseases drug, is facing a patent cliff in 2018. But it also has new drugs hitting the market: Zytiga for for cancer, Invega for schizophrenia, and Invokana for type 2 diabetes.
More From Wall St. Cheat Sheet:
Follow Meghan on Twitter @MFoley_WSCS