J&J Opens the London Innovation Centre & 3 Dow Movers to Follow
Intel Corporation (NASDAQ:INTC): Current price $21.64
In April, Lenovo will debut its first 5.5-inch smartphone with Intel Atom processor in China at a price of $642, reports DigiTimes. Industry sources say that Intel believes the phone named IdeaPhone K900 will be helpful to the company as it purchases a firm share in the China smartphone market.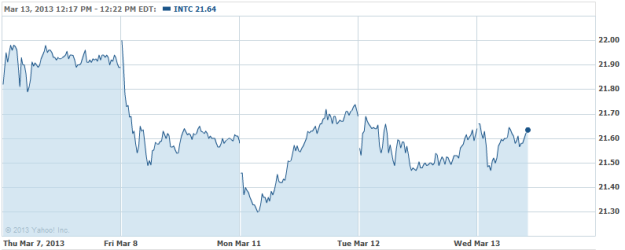 Johnson & Johnson (NYSE:JNJ): Current price $78.51
The company has announced the opening of the Johnson & Johnson Innovation center in London, representing one of four regional hubs being established in 2013. The goal of the London innovation center is to step up the best early-stage science in the world. and to further the development of new healthcare solutions.

The Coca-Cola Company (NYSE:KO): Current price $38.75
In China, local authorities in the southwestern Yunnan province claimed that Coca-Cola Co. illegally mapped its territory, says The Wall Street Journal. The officials accused company employees of employing handheld GPS devices to gather confidential information.  For its part, the company responded that it is cooperating to ensure logistics systems are in full compliance with government regulations.

Merck & Co. (NYSE:MRK): Current price $44.56
Merck and Luminex (NASDAQ:LMNX) will work jointly to develop a companion diagnostic device that will help screen patients for recruitment into Merck's clinical development program for MK-8931, a novel oral beta amyloid precursor protein site cleaving enzyme inhibitor, and Merck's lead investigational candidate for Alzheimer's disease. Financials were not divulged.

Investing Insights: Is UnitedHealth Group A Buy Now?