J&J Plans New Corporate Branding and 2 Other Dow Movers to Watch
Johnson & Johnson (NYSE:JNJ): Current price $85.08
At its annual shareholder meeting in New Brunswick, New Jersey, the firm revealed its first corporate-branding campaign in a decade. The television ads will start airing on May 6th, and a print ad will appear in People and The New York Times on May 10th, according to Vice President of global corporate affairs Michael Sneed, who said that the central theme of the new ads is love, "an expression of what people do when they care unconditionally for others. That comes out of the history of J&J."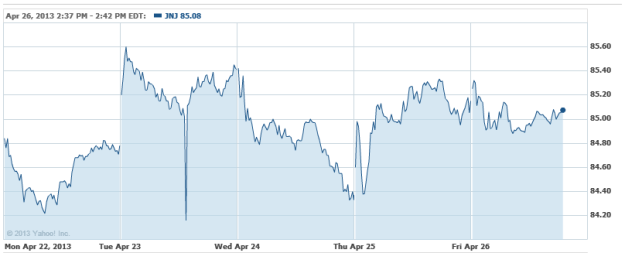 Microsoft Corporation (NASDAQ:MSFT): Current price $31.85
Microsoft has reported the pricing of its offerings of 550 million euros and $1.950 billion of senior unsecured notes of senior unsecured notes, respectively. The notes are comprised of the following tranches: 550 million euros of 2.625 percent notes due May 2, 2033; $450 million of 1.000 percent notes due May 1, 2018; $1 billion of 2.375 percent notes due May 1, 2023; $500 million of 3.75 percent notes due May 1, 2043. The corporation will use the net proceeds from the offerings for general corporate purposes, which might include, among other things, funding for working capital, capital expenditures, repurchases of capital stock, acquisitions and repayment of existing debt. The offerings should close on May 2, 2013.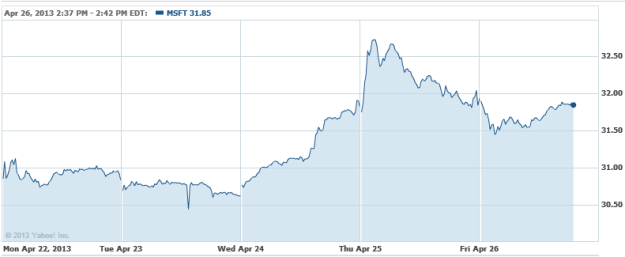 Pfizer (NYSE:PFE): Current price $30.02
Late Thursday European authorities adopted a negative opinion in regards to Pfizer's rheumatoid arthritis drug Xeljanz, after which shares slid by 2.8 percent to $29.41 in moderate volume. The Committee for Medicinal Products for Human Use of the European Medicines Agency recommended against a marketing application for the drug, noting that it did not exhibit a favorable risk/benefit profile, said the firm.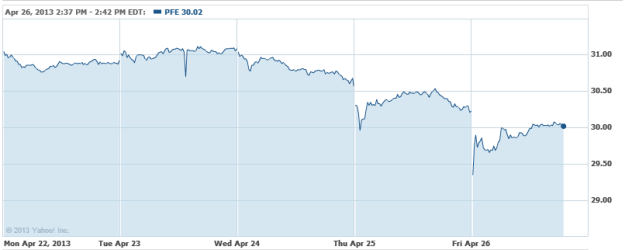 Investing Insights: Is Vivus Undervalued?