J&J's Stelara Shows Progress In Arthritis Treatment and 2 Other Dow Movers to Watch
Johnson & Johnson (NYSE:JNJ): Current price $83.82
According to data being presented at a medical meeting in Europe, Johnson & Johnson's Stelara exhibited significant improvement in signs and symptoms of psoriatic arthritis through 52 weeks of treatment in a late stage evaluation. The Phase III trial tested Stelara at two doses versus a placebo in 312 patients having active psoriatic arthritis, and included both subjects who had previously been treated with widely prescribed biotech drugs from the class named anti-TNF medicines and those who had not. J&J had previously posted results through 24 weeks of treatment in which almost 44 percent of those who received  Stelara at either dose achieved ACR 20 compared to 20.2 percent who reached ACR 20 in the placebo group. The result was considered to be highly statistically significant.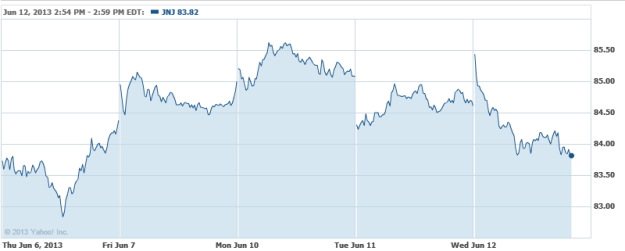 AT&T (NYSE:T): Current price $35.69
On Wednesday, AT&T and WildTangent celebrated the introduction of the Android-based mobile app Africa Swing, which triumphed in the first in a series of gaming-themed AT&T Mobile App Hackathons. The first prize included the AT&T Developer Program awarding team Africa Swing with WildTangent's hands-on support so as to bring the app to market, which is now available  by means of WildTangent's mobile game service. In January at the AT&T-hosted hackathon, participants, among which included the eventual winners Linghua Jin and Xiaomi Mao, were challenged to develop a mobile gaming app within 28 hours. At that event, Jin and Mao created a prototype for Africa Swing, which is a mobile game that challenges players to dodge obstacles while collecting points with upcoming actions cued by the rhythm of the in-app music.

General Electric Company (NYSE:GE): Current price $23.49
GE Capital and Slate's Roadshow for Growth comes to Pittsburgh Wednesday as part of a six-month, 20-city tour that will be oriented towards the challenges and opportunities that face middle market businesses, currently a sector that generates some $9 trillion in annual revenue, and comprises nearly 34 percent of all domestic employment. New research released by the National Center for the Middle Market indicates that mid-sized firm in the Pittsburgh area account for just 1 percent of total businesses, yet generate 29 percent of total revenue and comprise 34 percent of the city's employment.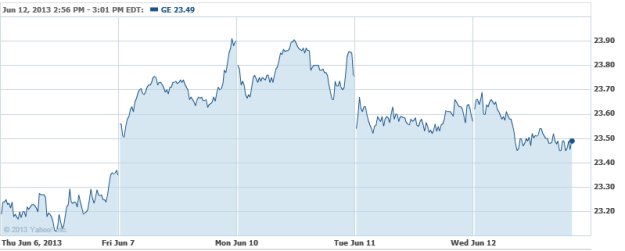 Don't Miss: Does Obamacare Mean Fewer Doctors and Less Accessible Healthcare?