Job and Wage Inequality Is Dominating the U.S. Job Market
In 2008, as the financial crisis ripened and the collapse of the housing market sent shock waves through the economy, the headline unemployment rate in the United States increased from 5.0 percent to 7.3 percent. In 2009, the rate climbed as high as 10.0 percent, and edged only fractionally lower to 9.9 by December.
Maximum employment is one half of the Federal Reserve's dual mandate, and in many ways, this astonishingly high unemployment rate has been the focus of post-crisis economics. Four distinct rounds of quantitative easing punctuated by unprecedented bond purchases were meant to amp up America's private sector and encourage corporate growth, but the consensus on Main Street is that Wall Street has reaped the reward while working-class citizens continue to suffer.
In the most-recent Employment Situation report, the Bureau of Labor Statistics reported that the U-3 unemployment rate had fallen to 7.5 percent, just 1 percentage point shy of the Fed's 6.5 percent target rate. Declining unemployment figures are the result of steadily improving private-sector payrolls that have offset substantial losses from public payrolls as sequestration spending-cuts trim the size of government agencies. Government payrolls at the local, state, and federal level have declined even during the recovery period.
But like most good economic news, the declining headline unemployment rate masks some concerning trends that betray overall weakness and inequality in the labor market.
The National Employment Law Project showed that while low-wage occupations accounted for 21 percent of recession-era job losses, they accounted for 58 percent of recovery job gains — and while mid-wage occupations accounted for 60 percent of recession losses, they accounted for just 22 percent of recovery growth.
What this means is that post-recession job growth is characterized by Americans taking lower-paying jobs, moving out of the middle class and into the lower class. Low-wage industries such as food services, retail, administrative support, and waste management services, constituted 43 percent of net job growth during the recovery. Within these industries, 76 percent of job growth occurred at the low end of the wage scale.
If inequality is defined by a shrinking middle class and growth at opposite ends of the spectrum, then the past decade can certainly be defined its inequality. Since the first quarter of 2011, employment has grown by 8.7 percent in lower-wage occupations and by 6.6 percent in higher-wage occupations. Meanwhile, employment in mid-wage occupations has fallen by 7.3 percent.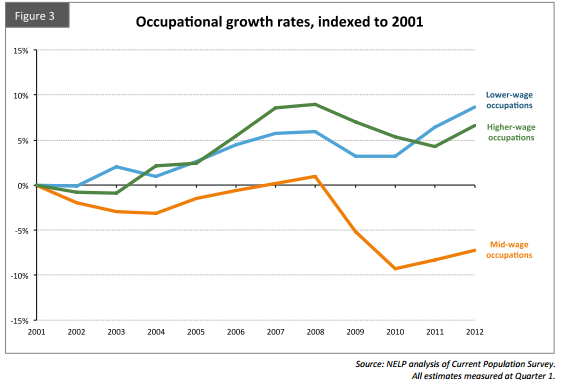 Meanwhile, stock markets and corporate profits are breaking records. Last week, amid increased investor confidence in the United States economy, benchmark indexes climbed to record levels. Corporate profits, as a percentage of gross domestic product, have hit a record high this earnings season, helping to push stock market gains higher. But the weak labor market, coupled with the Federal Reserve's easy-money policy, has created a climate that benefits companies far more than it does individual workers.
Unemployment still remains stubbornly high, yet the earnings divide between the workers in the United States and the companies that employ them is growing. This inequality serves to explain why stock markets are doing well despite relatively slow economic growth; the U.S. gross domestic product has grown at less than 2 percent per year over the past few years, and that is not the kind of V-shaped recovery that creates jobs.
With a stagnant economy and nearly 11.7 million people out of work, employers feel little pressure to increase wages. Companies would rather make do with fewer employees as productivity gains have enabled them to increase sales without growing their workforces.
As a percentage of national income, corporate profits accounted for 14.2 percent of the total in the third quarter of 2012, the largest portion since 1950. Comparatively, the percentage of income distributed to employees was 61.7 percent, near the lowest level since 1966.
As Barclay's chief United States economist Dean Maki told The New York Times in March, the widening gap accelerated during the financial crisis and subsequent recession. Corporate earnings have increased at an annualized rate of 20.1 percent since the end of 2008, he added, but disposable income has only grown by 1.4 percent annually over the same period, with inflation taken into account.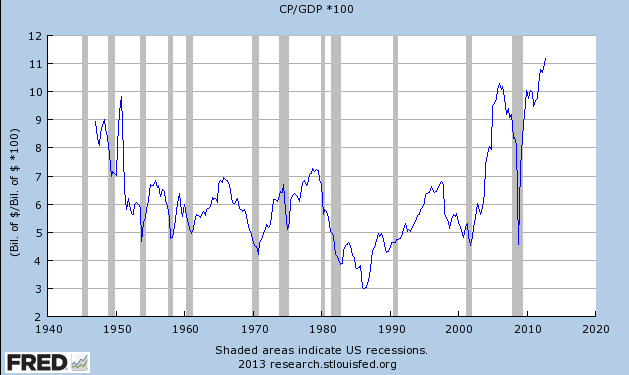 "There hasn't been a period in the last 50 years where these trends have been so pronounced," Maki said.
Signs of an improving job market have been manifested in recent unemployment data; according to recent Labor Department reports, employers have added 635,000 jobs in the past three months. But wage growth has been tepid. In April, hourly wages rose 4 cents to an average $23.87, an increase of about 2 percent, matching the annual pace at which wages have grown since the recovery began in mid-2009. However, taking inflation into account, the increase was virtually flat, and wages that barely keep pace with inflation do not make for a prosperous economy.
Furthermore, growth that has occurred in recent months has spread its bounty unequally; the slight gains in wages in the United States have only served to further income inequality. If the gap between corporate and personal earnings is growing, so too is the spread between high-wage earners and low-wage earners. Between the first quarters of 2001 and 2012, median real wages for lower-wage and mid-wage occupations declined by 2.1 percent and 0.2 percent, respectively, but increased for higher-wage occupations by 4.1 percent, according to the National Employment Law Project.
Partly because of this dim picture of the U.S. labor market, President Barack Obama indicated during this year's State of the Union address that he wanted to raise the federal minimum wage to $9.00 per hour from its current level of $7.25. Currently, Washington is the only state with a minimum wage higher than $9.00. While there is no exact number on the number of workers in the United States making the exact minimum wage, together McDonald's and Wal-Mart, the two largest low-wage employers, employ around 1.5 million people at $12 or less per hour.
Don't Miss: Student Debt Is Crushing the American Dream: Nobel Laureate.