Job Cuts On Pace to Fall Below 1997 Levels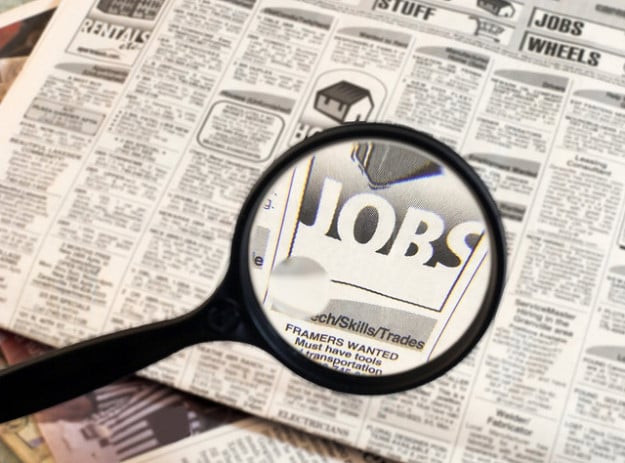 If the current pace of layoffs continues, the total number of job cuts in 2013 could fall below 2012's total of 523,362 — the lowest level recorded since 1997. Since January, employers have announced a total of 296,633 job cuts, 7.3 percent fewer than the number of layoffs announced in the first seven months of 2012.
The outplacement consultancy firm Challenger, Gray &  Christmas reported Thursday that job cuts declined slightly in July as employers announced plans to reduce payrolls by 37,701 workers. This figure represents a decrease of 4.2 percent from the 39,372 planned layoffs announced in June, although last month's total was 2.3 percent higher than in July 2012, when 36,855 planned job cuts were recorded.
This July, job cuts were slightly offset by announced hiring plans that will add close to 10,000 new workers to employer payrolls in the upcoming weeks and months, including the approximately 5,000 new workers hired by Amazon (NASDAQ:AMZN).
Workforce reductions were led by the health care sector. It announced 6,843 planned job cuts last month, the highest number of cuts since November 2009. So far this year, health care companies have laid off 29,794 workers, a 59 percent increase from last year's seven-month total.
"Cuts in Medicare reimbursements brought about by sequestration and health care reform are hurting hospitals' bottom line. Some states are also cutting Medicaid funding, which adds to the financial challenges," John A. Challenger — Challenger, Gray & Christmas's CEO — said in a press release. "Hospitals are also reporting fewer patients as high-deductible insurance policies discourage would-be patients from seeking health services. As a result of these factors, health care providers, which had been one of the country's best job generators in recent years, are being forced to reduce their headcounts."
Still, fewer than 1,000 job cuts could be attributed to the across-the-board spending cuts known as the sequester, the report noted.
In addition to the Challenger Job Cuts report, economists were given other signs that the job market is strengthening this week. Payroll processor ADP reported Wednesday that the number of jobs added to payrolls soared to 200,000 in July, and data from the U.S. Department of Labor on Thursday showed that the number of Americans seeking unemployment benefits plummeted in the week ended July 27, moving toward a 6-year low.
While July jobless claims can be volatile because the government adjusts for seasonal layoffs in the auto industry, the general trend in recent months has been positive, and this week's labor market data is a sign the labor market has found more stable footing.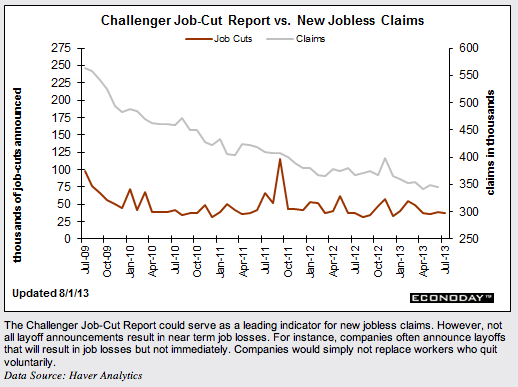 Don't Miss: Labor Market: Stronger Than Expected with Claims at 6-Year Low.