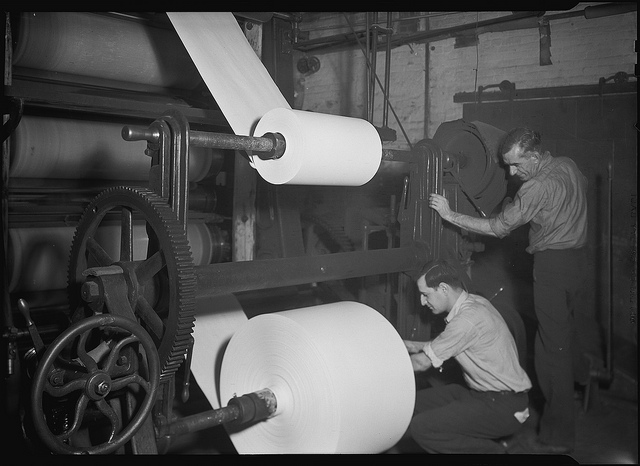 U.S. Department of Labor data released Thursday showed that initial claims for unemployment benefits continued on their downward trajectory and hit a five-and-a-half-year low. On Friday, mixed news was released from the department's file cabinet: the United States economy created fewer jobs than expected in July, with the majority of the gains coming in the low-wage retail and restaurant sector.
The 162,000-job gain pushed the unemployment rate down to 7.4 percent, the lowest in more than four years, but a shrinkage in the labor force also contributed to the decline, making it less impressive.
While July represented the 34th consecutive month of job creation, the current pace of employment gains is nowhere near enough to absorb the backlog of unemployed workers. According to the Brookings Institution's Hamilton Project, it will take more than seven years at the current rate of job creation to close what is known as the jobs gap left by the recession.
Other indicators of labor market health were concerning, as well. Both average hourly wages and the length of the workweek decreased modestly in July.
In general, economists are expecting the pace of hiring to speed up once March's across-the-board spending cuts have worked their way through the system at the end of the fiscal year on September 30. But, of course, new problems will emerge: Congress must deal with the debate over raising the debt ceiling, which could include additional austerity measures, and further austerity measures would mean that the problems created by the shrinking government could continue into next year.
"Whether there's less fiscal drag, more fiscal drag, or a train wreck, we still really don't know," MFR's chief U.S. economist, Joshua Shapiro, told The New York Times.
There is also another disconnect to consider. Even though the current rate of job creation is not stellar, it would typically coincide with faster-growing economic output. However, the United States's gross domestic product grew at an anemic annual rate of 1.7 percent in the second quarter and 1.1 percent in the first quarter, rates that are usually considered to be too weak to bring down unemployment significantly.
It is likely that job growth and GDP growth will not remain at odds for much longer. "I think with the economy showing 1 percent growth on average over the last three quarters you're locked into 150,000 jobs per month for the rest of this year," Steven Ricchiuto, the chief U.S. economist at Mizuho Securities, told the Times.
In addition to the retail and food services sectors, the job gains reported by the Labor Department on Friday were concentrated in financial activities and wholesale trade. The manufacturing sector added 6,000 jobs and government employment stayed relatively flat.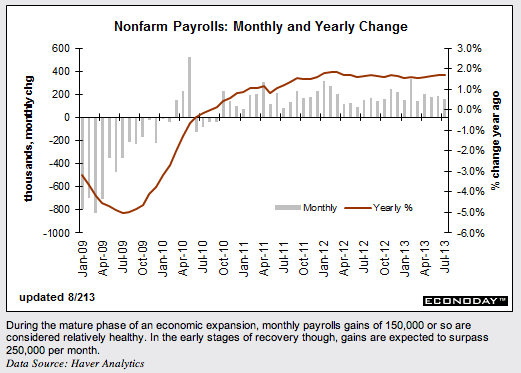 Follow Meghan on Twitter @MFoley_WSCS
Don't Miss: Farm Bill: Republicans Push for Food Stamp Cuts, But Costly Subsidies Remain.