Jobless Claims Are Falling, But Will Hiring Pick Up Soon?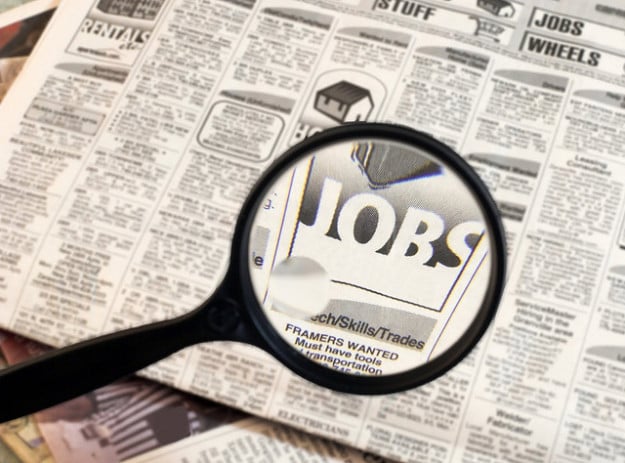 The Department of Labor will not release its official June employment report until Friday, but Wednesday has been awash with clues.
Not only did ADP's National Employment Report show that the private sector added 188,000 jobs in June, a marked increase from the 134,000 jobs added in May, but figures released by the outplacement consultancy firm Challenger, Gray & Christmas pointed to a noticeable slowdown in job cuts during the first six months of 2013, though the pace of downsizing did spike slightly last month. In addition, fewer Americans are filing claims for unemployment benefits, which indicates that employers are laying off fewer workers as growth prospects improve.
Initial claims for unemployment benefits fell for the second consecutive week, signaling the labor market's expansion at a moderate pace. The number of Americans filing jobless claims dropped 5,000 to 343,000 for the week ended June 29, the Department of Labor reported Wednesday.
Economists say that when weekly claims fall below 350,000, the job market is growing at a moderate rate. Applications for jobless benefits typically fall before job growth can accelerate.
Because applications for unemployment benefits act as a proxy for layoffs, this drop shows that employers are refraining from firing workers even as the economic struggles to gain strength this quarter. Fewer layoffs indicate that companies have pared their workforces about as much as possible, which puts employers in position to boost payrolls should business improve in the second half of the year. While Challenger's job report did reveal the pace of downsizing increased by 8.2 percent in June, combined with generally downward trending jobless claims figures, the muted staff reductions from June will likely not be enough to put the brakes on the expanding labor market.
"It's been trending at a moderately low level," Raymond James, the chief economist at Scott Brown, told Bloomberg regarding the Labor Department's jobless claims figure. Among employers, he said: "there's still some concern about hiring. Obviously they want to see an increase in demand for the goods and services they produce."
But as John Challenger, chief executive officer of Challenger, Gray & Christmas, noted in the firm's press release, it is unlikely that the overall pace of downsizing will see a significant surge in the second half of the year.
While jobless claims provide the first look at the employment situation for any given month, weekly figures can be volatile, so economists use the four-week moving average to understand wider trends. Last week, that figure also fell, decreasing from 346,250 to 345,500.
The number of people continuing to receive jobless benefits dropped to 2.93 million in the week ended June 22 from 2.99 million in the previous week. However, the continuing claims figure does not include the number of Americans receiving extended benefits under federal programs. Unemployed workers who have used up their traditional benefits and are now collecting emergency and extended payments fell by approximately 39,300 to 1.67 million.
ADP's report can be seen as a positive sign for the broader job market, but it is still only a preview for the much-watched government jobs report, which will be released Friday. That report includes both public and private sector positions, and is considered to be a much more accurate depiction of the labor climate. Economists are predicting the government's numbers to show that the economy added 165,000 jobs in June. If that estimate is correct, the unemployment rate will likely tick down to 7.5 percent.
In May, U.S. employers added 175,000 jobs. The unemployment rate rose to 7.6 percent as more Americans, perhaps encouraged by improved prospects, entered to labor force to look for work.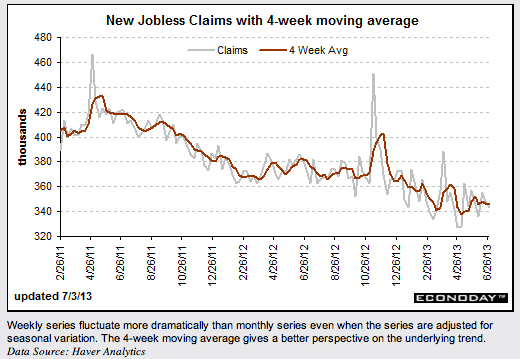 Follow Meghan on Twitter @MFoley_WSCS
Don't Miss: 5 Sequester Predictions That Didn't Come True.