Jobless Claims Drop: Market Improvement or Seasonal Noise?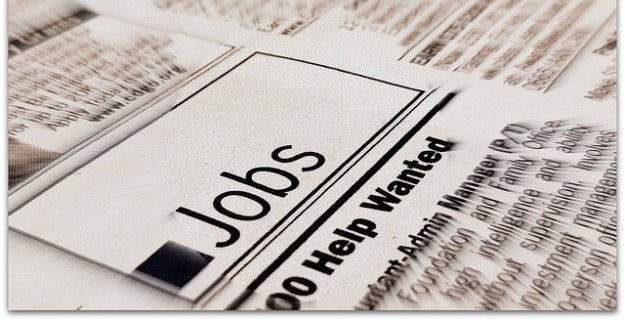 Initial claims for unemployment benefits fell to a two-month in the week ended November 16 — a sign the labor market has shaken off the last of the effects of October's partial government shutdown, which significantly weakened business confidence. Data from the Department of Labor's Bureau of Labor Statistics showed first-time jobless claims dropped by 21,000 to 323,000 from the prior week's upwardly revised 344,000. That drop surpassed the expectations of economist polled by Bloomberg, who had expected applications to fall to 335,000.
"We're discounting this a little bit, only because some of this is just seasonal noise," said RBS Securities economist Omair Sharif, told Bloomberg. "The pace of layoffs hasn't changed that significantly in the last few months." The seasonal noise to which Sharif was referring to is coming from the holiday shopping season.
For the 11.3 million people in search of a job, the season means the availability of seasonal employment. Retailers like Kohl's (NYSE:KSS), J.C. Penney (NYSE:JCP), and Amazon (NASDAQ:AMZN) will add thousands of positions their payrolls. According to a recent survey of hiring managers and human resource professionals, 39 percent of retailers plan to hire help for the holiday period this year, an increase from last year's 36 percent. Wages may not be high, but 51 percent of employers do plan to pay $10 or more per hour.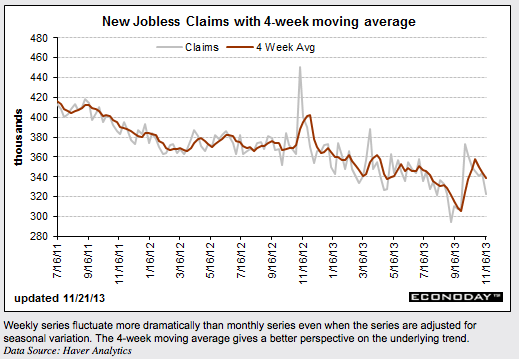 Consumer spending and job creation are intricately linked. An increase in consumer spending, a metric that accounts for 70 percent of economic activity, would also help drive growth and boost hiring. But the relationship between job growth and consumer spending is a two-way street; as long as job creation remains low, consumers will likely be more inclined to keep purchases to immediate necessities. Of course, any political stalemate in Washington can disrupt growth in job creation and consumer confidence. "Until we get beyond these political and fiscal uncertainties, we're likely to see this stop-and-start that we've had in the labor market,"  TD Securities' Millan Mulraine told Bloomberg. "Once we get beyond these issues, the labor market is likely to reflect a more buoyant economy.
Jobless claims provide the first look at the employment situation for any given month, but since the weekly figures can be volatile, economists use the four-week moving average to understand wider trends. The four-week moving average has now declined for the past three weeks. For the week ended November 16, the measure dropped to 338,500, a decrease of 5,750 from the prior week's downwardly revised 345,250. At the end of September, before claims were distorted by technical problems and the government shutdown, the four-week moving average sat at a six-year low of 305,000.
Improvements in the labor market are often hard to see on a week-by-week basis. In the week ended November 2, the total number of people claiming benefits in all programs was 3,875,295, a decrease of 32,376 from the previous week. There were 5,241,438 persons claiming benefits in all programs in the comparable week in 2012. Other unemployment data was mixed after the government shutdown. While key metrics begun to trend down once again or stabilize over the past few weeks, that trend went off course last month. The number of people continuing to receive jobless benefits increased 66,000 to 2.88 million in the week ended November 9. However, those individuals who have used up traditional benefits and are collecting emergency and extended payments fell by about 32,200 to 1.3 million in the week ended November 2.
The fact that initial claims have dropped for six straight weeks is evidence of growing strength in the labor market. But initial claims data — which serves as a proxy for layoffs — is only one part of the story. Job growth has been comparatively much weaker. Excluding the effects that Washington's political drama has had on jobless claims, the number of Americans applying for unemployment benefits had been trending down.
But for months, the falling applications were not accompanied by increased hiring as is usual. Hiring has yet to really accelerate. "We have a market that's not creating a lot of jobs and we are not losing a lot of jobs," Vining Sparks analyst Craig Dismuke told Reuters. Stepping back to look at the larger picture, the hole left in the jobs market left by the recession is still gaping. More than four million people have been out of work for more than six months and more than 11.3 million in total are looking for a job. Of course, October's Employment Situation Report, released last week by the Labor Department, showed much stronger job growth than expected.
Nonfarm payroll employment rose by 204,000 in October, an indication that the 16-day shutdown of the federal government did not prevent employers from adding positions to their payrolls at a more robust pace than in previous months. Even more encouragingly, the September gain was upwardly revised to 163,000 from 148,000 and August's payroll additions were upwardly revised to 238,000 from 193,000. According to those new figures, average job creation over the past three months now exceeds a 200,000 pace. Comparatively, employers added an average 146,000 jobs per month in May through July. But improvements in the labor force participation rate and the number of long-term unemployed were lacking.
Follow Meghan on Twitter @MFoley_WSCS
Don't Miss: 7 Eye-Popping Stats on the Costs of Raising a Baby.