Jobless Claims, Foreclosure Filings, and BP versus the U.S.: Market Recap
Markets were mixed today on Wall Street:
S&P: +0.06%, Nasdaq: -0.08%, Dow: -0.14%, Oil: +0.90%, Gold: +0.24%.
On the commodities front, Oil (NYSE:USO) climbed to $92.07 per barrel. Precious metals were mixed, with Gold (NYSE:GLD) rising to $1,769.3, and Silver (NYSE:SLV) dropping 0.29% to $34.01.
Here's your Cheat Sheet to today's top stock stories:
Americans received a bit of good news Thursday morning when the U.S. Labor Department released new data that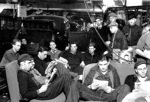 showed a sharp decrease in the number of jobless claims filed in the last week. The report highlights a drop of 30,000 initial claims for state unemployment benefits, bringing the seasonally adjusted total to 339,000. The news may have been sweetest for the nation's Commander-in-Chief Barack Obama, who could certainly use this positive labor market data to boost his bid for reelection. Obama has not seen new claims numbers so low since he has been in office, these being the lowest since February 2008.
Catalysts are critical to discovering winning stocks. Check out our newest CHEAT SHEET stock picks now.
Foreclosure filings in the U.S. last month fell to a five-year low, according to a RealtyTrac report, but some states are still seeing their foreclosures rise. The overall decrease put the combined number of reported default notices, scheduled auctions, and bank repossessions in September at 180,427, the lowest total since July 2007, and 7 percent less than August's foreclosure rate.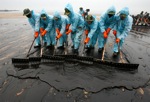 British Petroleum (NYSE:BP) and the United States Justice Department are closing in on a settlement deal related to the 2010 Deepwater Horizon disaster, reports The Wall Street Journal. BP pledged to raise $38 billion by the end of 2013 in order to cover an estimated maximum cost of $37.2 billion related to the spill. If found guilty of gross negligence — as the U.S. Justice Department has accused — BP would be liable for as much as $21 billion in civil penalties under the Clean Water Act alone.
A further consolidation of the telecommunications market is approaching; Japanese mobile carrier, Softbank (SFTBF.PK), is preparing to purchase Sprint Nextel (NYSE:S) for 1 trillion yen, or $13 billion, reported The Wall Street Journal Thursday. The offer from Softbank comes a week after Deutsche Telekom (DTEGY.PK) agreed to merge its U.S. wireless carrier, T-Mobile, with MetroPCS (NYSE:PCS) for $39 billion.
One question on the forefront of many analysts' minds is this: can the impending launch of Microsoft's (NASDAQ:MSFT) Windows 8, and the hardware built for it, resurrect personal-computer sales? Research firms IDC and Gartner reported that PC shipments fell by more than 8 percent, from a year earlier, in the third quarter. This is the steepest drop since 2001. Another report from IHS iSuppli supported their claim; their data showed shipments for the full year would contract for the first time in 11 years.
Don't Miss: Can Windows 8 Prevent a PC Nosedive?