Jobless Claims Rise: Should We Be Worried?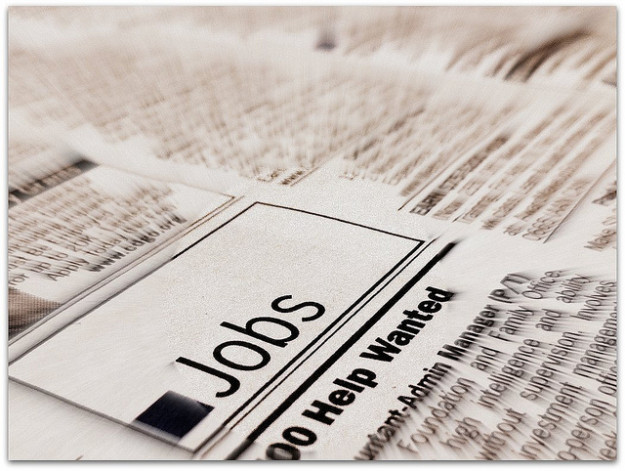 The idea that the labor market recovery is losing steam is gaining more adherents. After the Labor Departments Employment situation report showed that employers added just 88,000 workers to their payrolls last month, following the solid 268,000 added in February, last week's unemployment data showed that the number of Americans filing new claims for unemployment benefits rose last week.
Although initial jobless claims increased 4,000 to a seasonally adjusted 352,000, as the Labor Department said Thursday — a figure broadly in line with economists expectations — claims stayed near levels normally associated with average monthly job gains of more than 150,000. That fact helped allay concerns that the labor market's conditions were deteriorating, especially since the labor participation rate hit a new low for the recovery, and its lowest level since 1979, in March.
"We had a lot of volatility since the end of the quarter. This is a fairly clean, stable number. There is some slight strengthening in labor conditions but nothing dramatic," Pierpont Securities chief economist Stephen Stanley told Reuters…
According to economists questioned by the publication, while job growth has slowed in line with the overall economy, March's feeble employment gains overstated the labor market's weakness.
With jobless claims at a normal level, the report indicated that employers have enough demand for their goods and services to keep workers, meaning they should boost hiring if sales pick up. Therefore, gains in consumer spending — a segment that represents about 70 percent of the U.S. economy — are needed to prevent growth from slowing further as the federal government's automated spending cuts take effect. So far, the $85 billion spending cuts — known as the sequester — have yet to filter through to the labor market, but recent data ranging from employment to retail sales to manufacturing appear to be heading into a rough patch. This weaker data has been blamed mostly on the higher taxes and deep spending cuts, Reuters noted.
Comparatively, the Federal Reserve's Beige Book of current economic conditions, that was released on Wednesday, noted that employment conditions remained unchanged or slightly improved.
A less volatile measure of labor market trends, the four-week moving average for new claims, increased 2,750 to 361,250. However, the claims report showed that the number of people receiving benefits under state programs after the initial week of aid dropped by 35,000 to 3.07  million in the week ended April 6.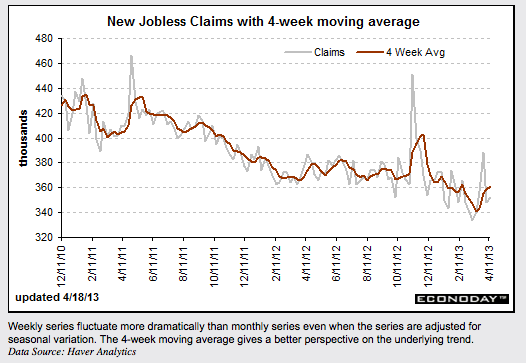 Don't Miss: Did This Excel Error Cause Panic Over Federal Debt?