Jobless Claims: Still Inflation from Government Shenanigans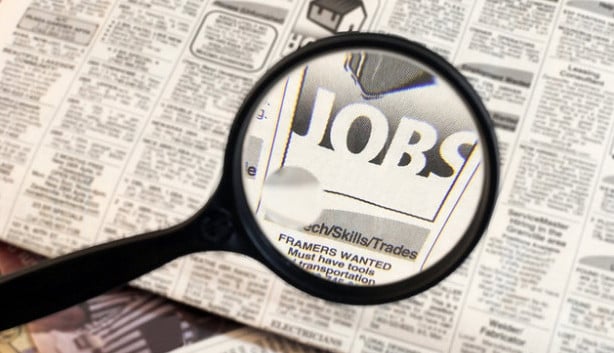 First-time claims for unemployment benefits have edged up since September, thanks in part to three consecutive weeks of technical problems in California, which have caused delays in application processing. The partial government shutdown also inflated first-time application numbers because a number of government contractors were laid off temporarily, although furloughed federal workers were not included in the claims data, according to the Department of Labor.
After spiking to a six-month high in the week ended October 5, applications have declined for the past two weeks. As the Bureau of Labor Statistics reported Thursday, the number of Americans seeking unemployment benefits dropped by 12,000 to a seasonally adjusted 350,000 in the week ended October 19.
Since the huge backlog of applications in California and the government shutdown, initial claims for unemployment benefits spiked to 358,000 and 373,000 and the past two weeks. Analysts had been expecting a much larger drop, with the consensus estimate set for a decrease to 340,000 new claims.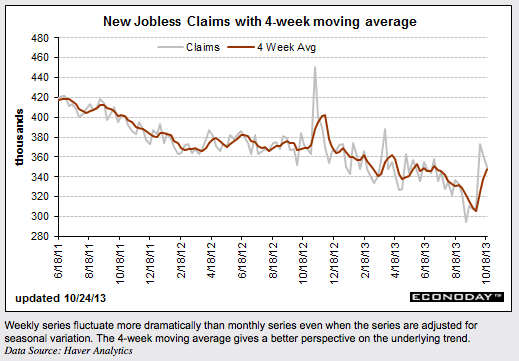 Jobless claims provide the first look at the employment situation for any given month, but since the weekly figures can be volatile, economists use the four-week moving average to understand wider trends. For the past three weeks, the four-week moving average has been rising. Last week, the measure hit 348,250, an increase of approximately 10,750 from the prior week's revised 337,500. At the end of September, before claims were distorted by California's technical problems and the government shutdown, the four-week moving average sat at a six-year low of 305,000. "It's going to be a couple more weeks before we get a clean reading on initial claims," Moody's Analytics senior economist Ryan Sweet told Bloomberg.
Excluding the effects that Washington's political drama has had on jobless claims, the number of Americans applying for unemployment benefits had been trending down. But falling applications have not been accompanied by increased hiring as is usual. Hiring has slowed in recent months rather than accelerating.
Stepping back to look at the larger picture, the hole left in the jobs market left by the recession is still gaping. More than four million people have been out of work for more than six months and more than 11.5 million in total are looking for a job. To put it simply, "the labor market recovery continues, but the pace of job growth remains disappointing," as PNC Financial Services Group economist Gus Faucher told the Washington Post.
Earlier in the week, the Department of Labor's much-delayed Employment Situation Report showed weak job gains. The government's Tuesday report did show that U.S. employers are reluctant to expand their payrolls, creating just 148,000 job in the month of September, down from August's upwardly revised 193,000 new jobs and far below analysts estimate for 185,000. Payroll employment growth has averaged just 143,000 per month over the past three months, a significant slowdown from the 224,000 created on average from April through June.
"The labor market lost, rather than gained, momentum over the summer, leaving us with less than a desirable cushion just as the government was shuttered in response to political shenanigans," Mesirow Financial chief economist Diane Swonk told the New York Times.
Since June, the headline unemployment rate has dropped 0.4 percentage points, but that down tick has largely come as the result of job hunters dropping out of the workforce. But in September, as the unemployment rate fell 0.1 percentage points to 7.2 percent, a broader measure of employment dropped as well. The U-6 unemployment rate, which includes those marginally employed and those employed part-time for economic reasons, dropped from 13.6 percent from 13.7 percent because more Americans were working last month. The number of people employed in September increased by approximately 133,000, while the number of people who said they were unemployed fell by about 61,000. But the labor market participation rate did remain flat with August's level, which was disappointing aspect of the jobs report.
September's limited job growth and relatively low labor market participation was met by decreasing numbers of initial claims for unemployment benefits, with first-time applications running at a pace near a six-month low. In fact, for much of the past two months, jobless claims have been trending down, which "suggests ongoing labor-market improvement," as TD Securities strategist Gennadiy Goldberg said after the September 26 report.
But while "companies are lean and mean," the "hiring that usually goes along with claims like these just isn't happening," as Maria Fiorini Ramirez chief economist Joshua Shapiro told Bloomberg earlier in the month. "The claims data are flashing a much stronger signal" than other data such as payrolls, he added.
Improvements in the labor market are often hard to see on a week-by-week basis. In the week ended October 5, the total number of people claiming benefits in all programs was 3,856,740, a decrease of 71,957 from the previous week. There were 4,923,220 persons claiming benefits in all programs in the comparable week in 2012. Other unemployment data has been steadily decreasing for the past several weeks as well. The number of people continuing to receive jobless benefits decreased modestly by 8,000 to 2.87 million in the week ended October 12. Also, those individuals who have used up traditional benefits and are collecting emergency and extended payments dropped 54,200 to 1.33 million in the week ended October 5, the most recently available data.
Follow Meghan on Twitter @MFoley_WSCS
Don't Miss: Will the Middle Class Ever Get to Retire?