Jobless Numbers Still Suggest Sluggish Labor Market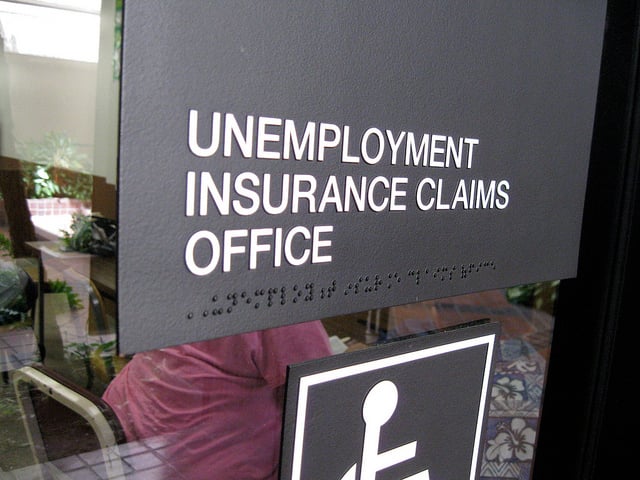 Initial claims for unemployment benefits dipped for the third consecutive week.
Department of Labor data showed that in the week ended October 26, jobless claims dropped by 10,000 to a seasonally adjusted 340,000. First-time claims for unemployment benefits edged up earlier this month thanks in part to three consecutive weeks of technical problems in California, which caused delays in application processing.
The 16-day partial government shutdown also inflated first-time application numbers because a number of government contractors were laid off temporarily, although furloughed federal workers were not included in the claims data, according to the Labor Department. But after spiking to a six-month high in the week ended October 5, applications have since declined after the initial impact of the government's budget battle has subsided.
Analysts had been expecting a slightly larger dip, with the consensus estimate set for a decrease to 338,000 new claims.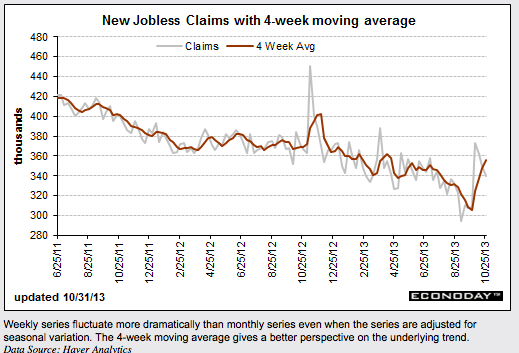 Jobless claims provide the first look at the employment situation for any given month, but since the weekly figures can be volatile, economists use the four-week moving average to understand wider trends. For the past four weeks, the moving average has been rising.
Last week, the measure hit 356,250, an increase of 8,000 from the prior week's unrevised average of 348,250. At the end of September, before claims were distorted by California's technical problems and the government shutdown, the four-week moving average sat at a six-year low of 305,000. "It's going to be a couple more weeks before we get a clean reading on initial claims," Moody's Analytics senior economist Ryan Sweet told Bloomberg after last week's jobs report.
Improvements in the labor market are often hard to see on a week-by-week basis. In the week ended October 12, the total number of people claiming benefits in all programs was 3,896,214, an increase of 39,532 from the previous week. There were 5,035,367 people claiming benefits in all programs in the comparable week in 2012. Other unemployment data have been mixed for the past several weeks.
The number of people continuing to receive jobless benefits increased modestly, by 31,000, to 2.88 million in the week ended October 19. However, those individuals who have used up traditional benefits and are collecting emergency and extended payments dropped 6,700 to 1.32 million in the week ended October 12, the most recent available data.
Excluding the effects that Washington's political drama has had on jobless claims, the number of Americans applying for unemployment benefits has been trending down — but the falling applications were not accompanied by increased hiring. Even more concerning is the fact that at current levels, the number of jobless applications is still within a range that signals a sluggish labor market.
Hiring has slowed in recent months, rather than accelerating. Stepping back to look at the larger picture, the hole left in the jobs market by the recession is still gaping: More than 4 million people have been out of work for more than six months, and more than 11.5 million in total are looking for a job. To put it simply, "the labor market recovery continues, but the pace of job growth remains disappointing," as PNC Financial Services Group economist Gus Faucher told the Washington Post last week.
Since June, the headline unemployment rate has dropped 0.4 percentage points, but that downtick has largely come as the result of job hunters dropping out of the workforce. In September, as the unemployment rate fell 0.1 percentage points to 7.2 percent, a broader measure of employment dropped, as well. The U-6 unemployment rate, which includes the marginally employed and those employed part-time for economic reasons, fell to 13.6 percent from 13.7 percent because more Americans were working last month.
The number of people employed in September increased by approximately 133,000, while the number of people who said they were unemployed fell by about 61,000. The labor market participation rate remained flat with August's level, which was a disappointing aspect of the jobs report.
September's limited job growth and relatively low labor market participation were met by decreasing numbers of initial claims for unemployment benefits, with first-time applications running at a pace near a six-month low. This indicates that while U.S. employers are not boosting hiring, they are not cutting many workers, either.
Wednesday's ADP National Employment Report showed a disturbing trend in job creation. Since June, payroll processor ADP's nonfarm, private employment data showed that job creation has decreased in every subsequent month. June saw 190,000 payroll additions, a figure that dropped to 161,000 in July; 151,000 in August; 145,000 in September; and 130,000 in October. In fact, the 130,000-job gain was the lowest number of additions recorded since April. Even after September's 166,000 payroll additions was downwardly revised, this month's job creation was shockingly low. Economists had expected ADP to report that employers added 150,000 jobs to their payrolls in October.
According to Moody's Analytics chief economist Mark Zandi, whose firm helps compile payroll processor ADP's National Employment Report, the party responsible for the month's lower growth is clear. "The government shutdown and debt limit brinksmanship hurt the already softening job market in October," he said in the report. And the hurt he speaks of is more than just a minor bruise. Because average monthly growth has fallen below 150,000, "any further weakening would signal rising unemployment," Zandi said.
Follow Meghan on Twitter @MFoley_WSCS
Don't Miss: 4 Grandmothers Who Still Rock.