Jobs and Premiums: Obamacare Myths Unraveled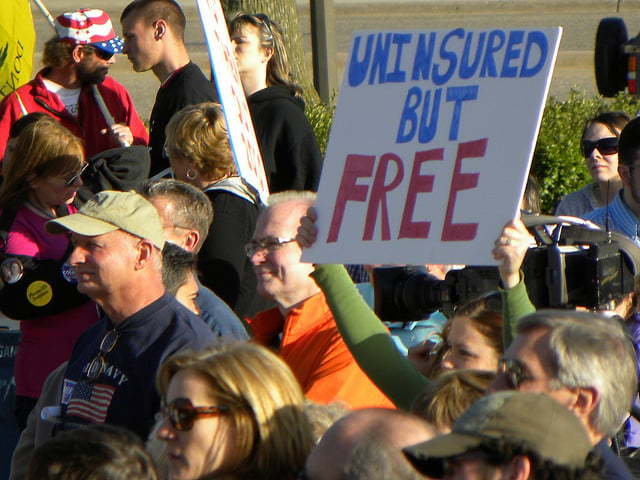 Data shows that Americans are confused about the Affordable Care Act — known popularly as Obamacare. Data compiled by the Kaiser Family Foundation in its August 2013 Health Tracking Poll showed that roughly four in ten Americans, 44 percent, think either the Affordable Care Act has been repealed by Congress or overturned by the Supreme Court, or say they do not know whether it remains law or not, which was the answer of 31 percent of respondents. As that statistic suggests, the lack of understanding extends far beyond the basic concept. Here's an analysis of two prevalent Obamacare myths.
1) Jobs
"Well, if you don't believe ObamaCare is the biggest job killer in the country, look to the facts. This year report after report has rolled in about employers restricting work hours to less than 30 hours per week — the point where the mandate kicks in. The data also points to record-low workweeks in low-wage industries. It is low-wage industries in particular because the people who get hammered by this are not the CEOs. It is not the rich. The rich have done just fine under President Obama. It is hard-working American families, the people who are struggling. It is young people, Hispanics, African Americans, and single moms. They are the ones who are losing their jobs and being forced to work 29 hours a week."
In his 21-hour long speech on the Senate floor earlier this week, Republican Ted Cruz of Texas expounded on one of the biggest myths that have been perpetuated about the Affordable Care Act. His argument is that the Obamacare provision that requires businesses with 50 or more full-time employees provide those workers with a minimum level of health insurance coverage or face tax penalties will cause employers to shift employees' schedules so that they will no longer be considered full time or layoff workers entirely. There is also the concern that employers will choose to hire more part-time workers rather than full-time workers. While there is evidence to support that claim that the Affordable Care will modestly affect employment in the United States, the claim that the reform is a "job killer" is overblown.
The Republican National Committee is claiming the number of Americans looking for full-time employment but unable to find it is 8.2 million. However, that figure is actually the number of part-time workers in the United States seeking full-time work, in June of this year, according to the Department of Labor's Bureau of Labor Statistics' figures. The designation used by the bureau to describe those workers is "part-time for economic reasons." There is nothing in the bureau's numbers to suggest that the conditions of those workers has anything do with the Affordable Care Act. In fact, there were more "part-time for economic reasons" individuals in March 2010 when the health care reform was signed into law, at 9.1 million. As of August, the number had dropped to 7.9 million.
Recent reports from the Bureau of Labor Statistics show that throughout the recovery, employment gains have been concentrated in part-time or contract employment in lower-wage sectors like the retail and food service. Christopher J. Conover, a researcher at the right-leaning American Enterprise Institute echoed Cruz's argument in a piece entitled "Who can deny it? Obamacare is accelerating U.S. towards a part-time nation," which was originally published in Forbes on July 31. "Admittedly, it takes a little detective work, but if we systematically review the available empirical evidence in an even-handed fashion, the conclusion seems inescapable: Obamacare is accelerating a disturbing trend towards a nation of part-timers," he wrote.
It is not uncommon for the number of part-time workers to surge during a recession, nor is it uncommon for that measure to abate post-recession. However, Conover's research found that in the first sixth months of 2013, 4.3 part-time jobs were created for every full-time one. And, as he noted, if this trend continues and the number of part-time workers soars above 9 million — barring no recession — it would be historically anomalous. "Should that happen, it would be hard to avoid the conclusion that Obamacare's employer mandate had something to do with this reversal," he added. Yet, he had no hard data to support that conclusion. Undermining his assessment further is the fact that other economists have said that the data on which Conover based his research was flawed. The method of comparison was susceptible to creating extreme values, argued Bloomberg's Evan Soltas, and Conover's data, which was taken from the Bureau of Labor Statistics' household survey, was too volatile to draw accurate conclusions from small samples.
It is true that a few nonpartisan economic analyses have estimated that a small number of primarily low-wage positions will be cut as employers prepare for the additional labor costs that Obamacare's employer mandate will add to business' balance sheets. But economists expect the impact will be minimal. The original source of the concern for job loss was a 2010 report from the nonpartisan Congressional Budget Office, which said the Affordable Care would have a small effect on employment "primarily by reducing the amount of labor that workers choose to supply." That fact, which the Republican party translated into a loss of actual jobs, was actually meant to imply that individuals may choose to work fewer hours if they receive subsidies to help buy insurance or retire early if close to retirement. This decrease in the amount of labor in the economy would amount to one-half of 1 percent, according to the report.
CBO also said that the employer requirements "will probably cause some employers to respond by hiring fewer low-wage workers," but companies may hire more part-time or seasonal workers instead. Hard evidence shows that employers are turning to part-time workers mostly because of the economic situation. Duke University/CFO Magazine Global Business Outlook Survey polled 530 chief financial officers of United States-based companies last month, and found that 59 percent of the respondents said that they have increased the proportion of their workforce made up by temporary and part-time workers or shifted toward outside advisers and consultants. Of those, 38 percent attributed the shift to the implementation of the Affordable Care Act, while another 44 percent said it was because of extreme economic uncertainty.
But it is important to remember that companies that do not provide insurance and will be required to probably employ around one percent of American workers. "You've got 5.7 million firms in the U.S.," Mark Duggan, who served as the top health economist at White House's Council of Economic Advisers from 2009 to 2010, told the Washington Post. "Only 210,000 have more than 50 employees. So 96 percent of firms aren't affected. Then if you look among those firms with 50 or more employees, something on the order of 95 percent offer health insurance. So it's basically 10,000 or so employers who have more than 50 employees and don't offer coverage."
Plus, "there is little evidence that fiscal austerity and health care reform have had a significant impact on the job market," as Mark Zandi, chief economist of Moody's Analytics, told USA Today on September 5.
2) Premiums
"In an Obama administration, we'll lower premiums by up to $2,500 for a typical family per year….. We'll do it by the end of my first term as President of the United States," Barack Obama said at town hall meeting in Bristol, Virginia when on the campaign trail in 2008. Comparatively, Republican lawmakers who oppose the health reform say that individual insurance premiums will skyrocket as a result of its implementation. "We went through this whole debacle of giving people ObamaCare and it is going to be expensive. Everybody is going to pay more. Many people still will not have insurance. The ones who do have insurance are going to pay more," said Republican Senator Rand Paul of Kentucky during his brief cameo in Cruz's Senate Speech.
How much an individual's insurance costs will change because of Obamacare depends on a whole host of factors; it depends on age, current health status, state of residence, and of course whether the individual was insured before purchasing a policy via the Obamacare-mandated insurance exchanges. For example, those who are uninsured and have a preexisting condition will likely pay less for coverage than they would in the current private market; without accounting for subsidies, those who uninsured but young and healthy will likely pay more; those who are insured through their employer will likely experience few changes; and some 13 million Americans who are currently uninsured will pay little to nothing because they will become eligible for Medicaid.
Plus, a vast majority of those buying plans on the individual exchange — 80 percent, according to the Congressional Budget Office, will receive subsidies of varying amounts to make insurance more affordable.
In general, exchange premiums reflect insurers' estimates of the cost of offering the new benefits to people: the plans offered on the exchanges must meet certain regulatory requirements, surcharges based on health status will be eliminated, premium variations based on age will be limited, and a three-year, $10-billion reinsurance pool will be created to insult insurance costs from the shock of offering coverage to those previously uninsured customers or those who were enrolled in high risk plans. As for states, premium increases can vary not only because each exchange has attracted a different number of insurers, but because states have regulated the insurance market for more than one hundred years and have developed different standards. For example, insurers operating in New York were not allowed to sell so-called bare bones plans, meaning that to adjust these plans to comply with Obamacare standards, which require insurance to cover a minimum set of benefits like maternity leave and mental health, insurers had fewer changes and fewer costs to add.
Plans are no longer able to charge more based on health status or gender, but they can vary based on geography, tobacco use, and age. Obamacare regulations prohibit insurers from charging an adult 64 or older more than three times the premium charged a 21-year-old for the same coverage. Younger adults, who are less risky to insure, will likely see the greatest increases because their premiums are meant to balance out the medical costs of those older and sicker insurance consumers who are more likely to use their benefits.
An August 2013 RAND study, sponsored by the Department of Health and Human Services (NYSE:HHS) and the Centers for Medicare & Medicaid Services (NYSE:CMS), calculated that there would be "no widespread trend toward sharply higher prices in the individual market." Rather, rates would likely vary from state to state and based on individual circumstances.
While it may be difficult to make any generalizations about who will pay more, efforts have been made to quantify the changes to policy prices brought on by the transition from the private insurance market to the exchanges. According to data released Wednesday by the Obama administration, the average premium nationally for the second lowest cost silver plan will cost $328 before tax credits, or 16 percent less than the government originally projected by the Congressional Budget Office. In certain states that figure could be much higher; in Mississippi average premiums will cost $448 per month, premium costs in Alaska amounted to $474; and premiums averaged $516 in Wyoming. The least expensive plans were reported in Minnesota, where premiums will cost an average of $192 per month, and Tennessee, with premiums averaging $245.
"We are excited to see that rates in the Marketplace are even lower than originally projected," said HHS Secretary Kathleen Sebelius. "In the past, consumers were too often denied or priced-out of quality health insurance options, but thanks to the Affordable Care Act consumers will be able to choose from a number of new coverage options at a price that is affordable." The report stated that 6 out of 10 people currently uninsured will be able to find coverage for $100 or less per month in the Marketplace, taking into account premium tax credits and Medicaid coverage.
To prove affordability, the report highlighted several case studies. A 27-year old living in Dallas, who makes $25,000 per year, will pay $74 per month for the lowest cost bronze plan and $139 per month for the lowest cost silver plan, taking into account tax credits. A family of four living in Dallas, with an annual income of $50,000, the lowest bronze plan would cost only $26 per month, taking into account tax credits. But premiums will vary significantly across the country. According to HHS, monthly premiums for the second-cheapest plan will vary widely, averaging $600 in Arizona, $800 in Georgia, $961 in Indiana, $1,069 in Mississippi, $859 in New Hampshire, $943 in New Jersey and $656 in Utah. The key here is that the prices include tax credits.
The administration has touted this "16 percent lower" figure, but it is important to remember that the percentage refers to the original estimates conducted by the CBO, not current premium prices. Senate Minority Leader Mitch McConnell said the premium costs released by HHS on Wednesday were still a more expensive proposition for Americans when compared to why they previously paid for insurance policies. "Even the Administration is having a terrible time spinning this law," McConnell said in a statement. "About the best they could claim was that some premiums would be lower than projected. Note that I didn't say lower, but lower than projected."
For a look at how expensive premiums are in the current market the Government Accountability Office examined premium amounts that existed prior to the full implementation of the Obamacare in July. The agency's data showed that Americans who are young and healthy are able to buy relatively inexpensive policies; a 30-year-old nonsmoker can pay as little as $373 a year in Georgia or $1,027 in Alaska.
Follow Meghan on Twitter @MFoley_WSCS
Don't Miss: Government Watchdog: IRS Already Making Obamacare Errors