Jobs Report: Here's Why the News Is Not So Great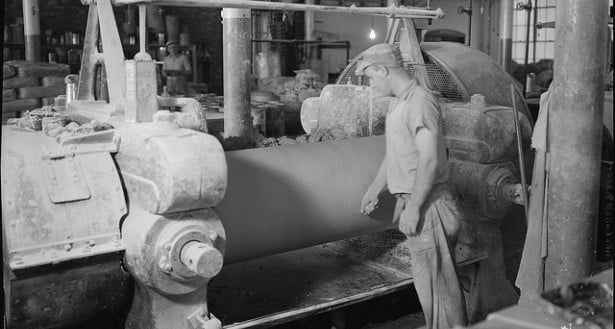 In August, as in July, the employment situation fell short of providing convincing evidence that the labor market was returning to full health. The United States economy added fewer jobs than economists expected and the unemployment rate ticked down, largely as the result of job hunters dropping out of the labor force. The share of working-age Americans who were employed or looking for work fell to 63.2 percent last month — its lowest level since 1978, a time when fewer women were participating in the labor force.
The Department of Labor reported Friday that the country's employers expanded their payrolls by 169,000 jobs, below the consensus estimate of 175,000 new jobs, and unemployment dropped one percentage point to 7.3 percent. The total number of unemployed persons remained little changed at 11.3 million, while the number of long-term unemployed persons, those jobless for 27 weeks or more, was about unchanged at 4.3 million. Those individuals, who have been jobless for 27 weeks or more, constitute 37.9 percent of the unemployed, and their numbers have shrunk by only 733,000 over the past 12 months.
Friday's release also showed the government downwardly revised job growth in July and June significantly, payroll employment for June was revised from 188,000 to 172,000 while July was revised from 162,000 to 104,000.
Throughout the month of August, weekly claims for unemployment benefits rose almost as many times as they have fallen. However, the general downward trend in claims have indicated to many economists that the labor market is making significant improvement in the reduction of initial applications for unemployment benefits, even if more progress in hiring is needed.
The number of jobless claims — which serves as a proxy for layoffs — have not strayed far from the 330,000 level. Before the recession began in December 2007, an average number of 320,000 initial claims were filed each week due to the normal churn in the job market. But while these claims are trending near pre-recession levels, hiring has remained steady but mediocre, with August's growth falling in line with the average hiring rate for 2013.
While July represented the 35-consecutive month of job creation, the current pace of employment gains is nowhere near enough to absorb the backlog of unemployed workers. According to the Hamilton Project at the Brookings Institution, it will take more than seven years at the current rate of job creation to close the jobs gap left by the recession. If the economy were to create enough jobs to fill that hole, 300,000 jobs per month would need to be created.
However, it is not only the number of jobs that are created that matter, but the quality of jobs that are created as well. The problem is that many Americans who want to work full-time cannot. As of August, there were 7.9 million individuals who wanted full-time employment but could only find part-time work, and as a result, the underemployment rate rose to 13.7 percent.
Throughout the recovery, employment gains have been concentrated in part-time or contract employment in lower-wage sectors like the retail and food service. For example, in August, retail trade added 44,000 jobs; health care payrolls increased by 33,000 jobs; and employment in leisure and hospitality increased by 21,000 jobs.
Comparatively, employment gains in other sectors were much lower. Wholesale trade added 8,000 jobs and within manufacturing, employment in motor vehicles and parts rose by 19,000 in August after declining by 10,000 in July. Furthermore, employment in other major industries, including mining and logging, construction, transportation and warehousing, financial activities, and government, showed little or no change in August.
Thursday's positive jobless claims report and the recent release of other optimistic economic indicators, including last week's upward revision of second-quarter Gross Domestic Product, reinforced expectations that the Federal Reserve would begin cutting back its stimulus program in September.
"We still expect the Fed to go ahead with the taper later this month," Capital Economics' Paul Ashworth told The New York Times. But he also acknowledged that the August employment situation report was "mixed bag that can be used to support an immediate tapering of the Fed's monthly asset purchases or delaying that move until later this year."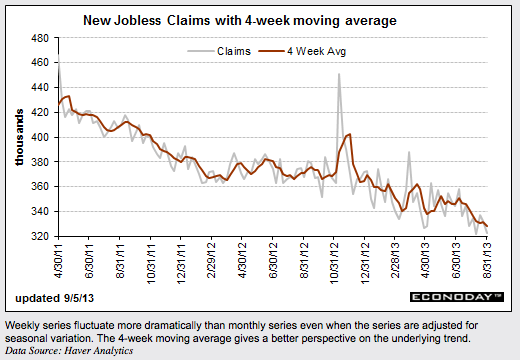 Follow Meghan on Twitter @MFoley_WSCS