Johnson Controls Earnings: Engineered Profits, But Not a Beat
S&P 500 (NYSE:SPY) component Johnson Controls, Inc. (NYSE:JCI) reported higher profit for the second quarter as revenue showed growth. Johnson Controls Inc. is a technology and industrial company focused on building efficiency, automotive experience and power solutions.
Don't Miss: Wall St. Cheat Sheet's newest Feature Trades of the Month!
Johnson Controls Earnings Cheat Sheet for the Second Quarter
Results: Net income for Johnson Controls, Inc. rose to $354 million (51 cents/share) vs. $274 million (40 cents/share) in the same quarter a year earlier. A rise of 29.2% from the year earlier quarter.
Revenue: Rose 22% to $10.14 billion YoY.
Actual vs. Wall St. Expectations: JCI fell short of the mean analyst estimate of 55 cents/share. Estimates ranged from 53 cents per share to 60 cents per share.
Quoting Management: "The second quarter results show solid momentum across all three of our businesses, with each achieving significantly higher revenues and profitability," said Stephen A. Roell, Johnson Controls Chairman and Chief Executive Officer. "The backlog in Building Efficiency grew to record levels as a result of continued market share gains and our strong position in the emerging markets. Power Solutions benefitted from aftermarket battery demand that exceeded our expectations and Automotive Experience revenues outpaced industry production with the launch of 18 major new programs."
Key Stats:
The company has enjoyed double-digit year-over-year revenue growth for the past five quarters. Over that span, the company has averaged growth of 20.9%, with the biggest boost coming in the second quarter of the last fiscal year when revenue rose 31.7% from the year earlier quarter.
Competitors to Watch: Lear Corporation (NYSE:LEA), Visteon Corporation (NYSE:VC), Gentex Corporation (NASDAQ:GNTX), Motorcar Parts of America, Inc. (NASDAQ:MPAA), United Technologies Corp. (NYSE:UTX), Honeywell Intl. Inc. (NYSE:HON), Commercial Vehicle Group, Inc. (NASDAQ:CVGI), Modine Manufacturing Co. (NYSE:MOD), Strattec Security Corp. (NASDAQ:STRT), and Stoneridge, Inc. (NYSE:SRI).
Today's Performance: Shares of JCI are trading at $40.73 as of April 25, 2011 at 7:10 AM ET, unchanged from the previous close.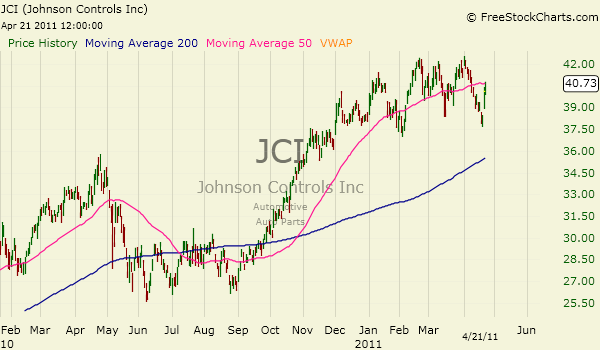 Don't Miss Wall St. Cheat Sheet's newest Feature Trades of the Month!