Johnson & Johnson and Merck Lead the Dow Healthcare Stock Rollercoaster Ride This Week
Johnson & Johnson (NYSE:JNJ): Current price $88.06
The J&J company Biosense Webster is announcing results from the SMART-AF IDE study on the safety and effectiveness of the Thermocool Smarttouch catheter 85.85 +0.09. the firm reported the 12-month safety and effectiveness results of the catheter and software module in the treatment of symptomatic, drug refractory, paroxysmal atrial fibrillation from the groundbreaking SMART-AF Investigational Device Exemption clinical trial. The 12-month study enrolled 172 subjects (72 percent male and 28 percent female) at 21 centers through out the United States. Thus far, the study attained its prospective safety and effectiveness endpoints with no unanticipated device-related adverse events, and 72 percent of subjects were free from AF recurrence at the close of the 12-month follow-up period.
The company has won United States approval to use its rheumatoid arthritis drug Simponi to treat patients suffering from a moderate to severe inflammatory bowel disease. The FDA on Wednesday approved the drug's usage in adults having the chronic condition ulcerative colitis after conventional therapy has failed or continuous steroid use is required. Approximately 620,000 people in the United States have the disease, which leads to ulcers in the colon and rectum that cause abdominal pain and diarrhea, according to an FDA statement.
On Thursday, the orthopedic unit of Johnson & Johnson announced that it is phasing out production of all-metal replacement hips, reflecting an industry-wide movement to abandon the one-time widely used implants due to high early failure rates. In 2010, Johnson & Johnson's DePuy Orthopaedics recalled an all-metal model called the Articular Surface Replacement, or A.S.R., as it was failing only a few years after implant. Artificial hips made from materials such as plastic and metal usually last 15 years or more prior to wearing out. However, after that recall, the firm continued to sell an all-metal version of a popular hip model called the Pinnacle, insisting that the all-metal product was safe and performing equally with other hip replacements, which position it reiterated on Thursday.

Don't Miss: Is This Obamacare Provision a Threat to Food Companies?
Merck & Co. (NYSE:MRK): Current price $45.99
The German pharmaceutical and high-tech materials firm Merck KGaA has seen higher prices for its multiple sclerosis drug Rebif, which are credited for the company posting a 54 percent jump in first-quarter profit. What is more, Merck enjoyed stronger sales of materials for liquid-crystal displays and elevated its profit forecast, projecting that it would meet its 2014 goals this year. Its optimism came after it posted a net profit of $345 million in the first three months of the year.
On Tuesday, Merck saw its unsecured debt rating cut one gradation by Moody's Investors Service, and now it intends to sell bonds to fund share buybacks. The company will issue three- and five-year securities that might include similar-maturity portions of floating-rate notes, alongside fixed-rate 10-year and 30-year bonds, according to a knowledgeable source. In a regulatory filing on Wednesday, Merck indicated that a "substantial portion" of the proceeds will fund share repurchases that could come to $7.5 billion over the next 12 months.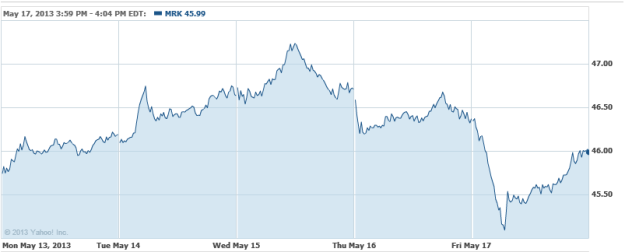 Investing Insights: Petrobras: Is It A Risky Investment?

UnitedHealth Group Incorporated (NYSE:UNH): Current price $62.85
The UnitedHealthcare Children's Foundation requests grant applications from families who require financial assistance to help pay for their children's health care treatments, services or equipment that are not covered, or not fully covered, by their commercial health insurance plans. Families who qualify may receive as much as $5,000 per grant to help pay for medical services and equipment like counseling services, prescriptions, physical, occupational and speech therapy, surgeries, wheelchairs, orthotics, eyeglasses, and hearing aids.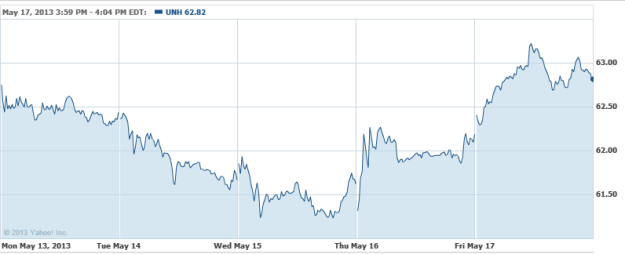 Don't Miss: Will Dell's Results Further Founder's Takeover Agenda?