Johnson & Johnson Looking at Gains and 2 More Dow Movers to Watch
Johnson & Johnson (NYSE:JNJ): Current price $83.39
On Thursday, J&J reported the divestiture to Elan Corporation of roughly 82 million American Depositary Shares of Elan held by Janssen Pharmaceutical, which is an affiliate of Johnson & Johnson. This sale was conducted in accordance with the "Dutch Auction" tender offer begun by Elan on March 11. The aggregate proceeds should be received on or before April 30.Janssen will receive $11.25 per ADS, which will accumulate in an after-tax gain of around $213 million, and will be posted by Johnson & Johnson in the second quarter.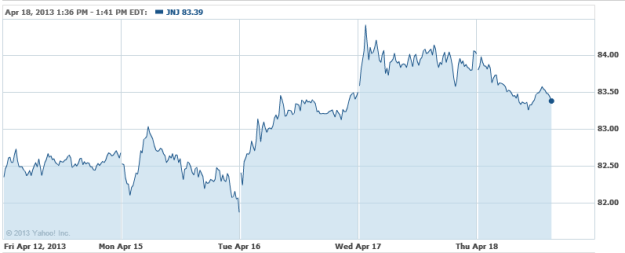 McDonald's Corporation (NYSE:MCD): Current price $101.73
McDonalds business in Japanis hiking some prices by up to 25 percent in May, marking the chains first increase on burgers there since 2008. Prices for hamburgers will rise to 120 yen from 100 yen, and cheeseburgers will go to to 150 yen from 120 yen, according to a statement released by McDonalds Holdings Co. Japan on Thursday, which related that the increases are part of its plan to boost profitability, followingthe Japanese division posting a 12-percent drop in operating profit in 2012.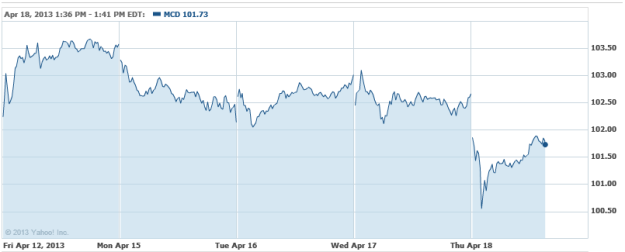 The Coca-Cola Company(NYSE:KO): Current price $42.27
Coke has announced the debut of Caffeine Free Coke Zero for consumers who like to have a taste later in the day. This new product will be available for sale from mid July, and will come in packs of 12 cans and 2-liter bottles. WhileCoke Zero is a very successful brand, bringing around $1 billion in worldwide revenues, an increasing demand for caffeine free products is evident. Caffeine Free Coke Zero will afford consumers the option to enjoy the beverage without worries about calories or caffeine intake.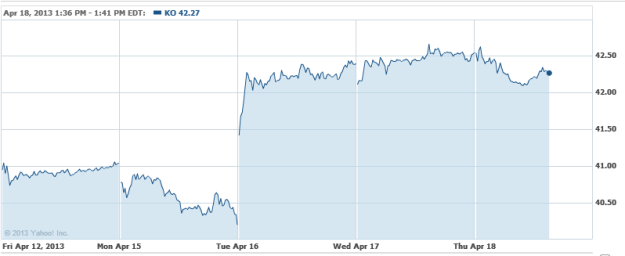 Investing Insights: Is Clorox Still a Safe Investment?