Johnson & Johnson's Latest Recall, Kodiak's Buy Pays Off, and 3 More Hot Stocks
Johnson & Johnson (NYSE:JNJ): The pharmaceutical and health care giant is is recalling 5,000 vials of its Risperdal Consta schizophrenia treatment after tests found that one lot of the drug was contaminated with alternaria alternata, a common mold. The recall is preemptive, as no reports of patient complications have surfaced. Just last week, Johnson & Johnson recalled 200,000 bottles of its Motrin Infants Drops formula due to a risk that they contained tiny plastic particles.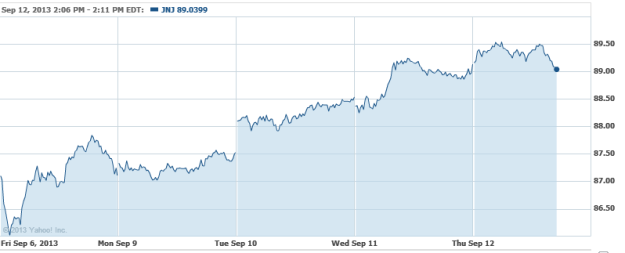 Kodiak Oil & Gas Corp. (AMEX:KOG): CEO Lynn Peterson said in an interview with Reuters that the June purchase of 42,000 acres of leases in North Dakota's Bakken shale fields last June helped boost the company's production and reflects its aggressive plan to spend about $950 million this year to drill 100 new wells. Peterson added that Kodiak has "no need" for more land deals, but is keeping an eye on potential buyouts.

Kroger Co. (NYSE:KR): Earnings per share of 60 cents beat estimates by a 1 cent as revenue also beat with $22.72 billion, $0.05 billion more than expectations. Identical supermarket sales rose 3.3 percent during the second quarter after removing fuel sales. The company raised its guidance for 2013 to 3 percent-3.5 percent, up from 2.5 percent-3.5 percent.

Dow Chemical (NYSE:DOW): Dow Chemical declared a 32 cents per share quarterly dividend, in line with its previous dividends. It has a forward yield of 3.21 percent and is payable on October 30 for shareholders of record on September 30. It has an ex-dividend date of September 26.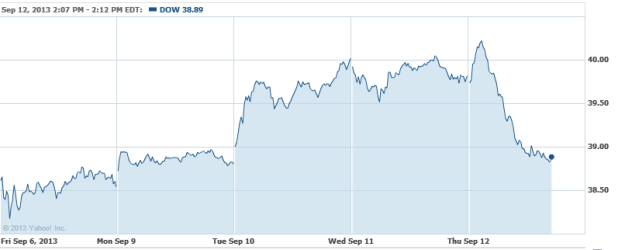 21 Century Fox Inc. (NASDAQ:FOXA): "At its recent analyst day, FOX laid out an ambitious but realistic 3 year growth plan to deliver low-teens annual EBITDA growth. This outlook … positions FOX as the fastest growing large cap media company in our coverage universe," said Morgan Stanley analyst Benjamin Swineburne as he raised the price target on Fox to $37 from $34, and reiterates the firm's Overweight rating.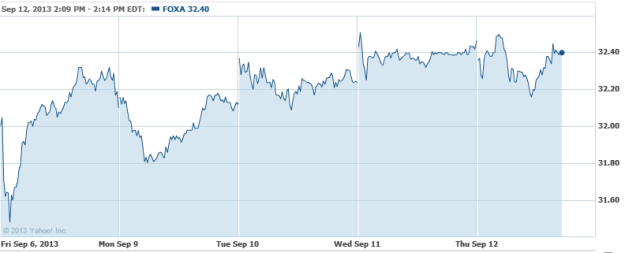 Don't Miss: J&J Pulls Another Med Off the Shelves; This Time, a Schizophrenia Drug.