Joy Global Inc. Earnings Cheat Sheet: Margins Expand Again, Profit Rises
Joy Global Inc. (NASDAQ:JOYG) reported net income above Wall Street's expectations for the second quarter. Joy Global, Inc. is a manufacturer and servicer of mining equipment for the extraction of coal and other minerals and ores. The equipment is used in the mining regions globally to mine coal, copper, iron ore, oil sands, and other minerals.
Don't Miss: Wall St. Cheat Sheet's newest Feature Trades of the Month!
Joy Global Earnings Cheat Sheet for the Second Quarter
Results: Net income for the machine tools and accessories company rose to $162 million ($1.52/share) vs. $120.4 million ($1.15/share) in the same quarter a year earlier. A rise of 34.5% from the year earlier quarter.
Revenue: Rose 18.6% to $1.06 billion YoY.
Actual vs. Wall St. Expectations: JOYG beat the mean analyst estimate of $1.35/share. Estimates ranged from $1.25 per share to $1.53 per share. It beat the average revenue estimate of $1.03 billion.
Quoting Management: "We had another outstanding quarter, reaching record levels of performance in order bookings, shipments, operating profit margins and earnings per share," said Mike Sutherlin, President and Chief Executive Officer. "The balance in our performance across this range of metrics is more satisfying than the records, and it demonstrates our drive to improve all areas of our business through our Operational Excellence programs. In addition, we continue to see solid fundamentals based on the capital investment decisions of our customers."
Key Stats: Last quarter marked the fifth consecutive quarter of gross margins expanding as the company's gross margin expanded one percentage points to 35.1% from the year earlier quarter. Over that span, margins have grown on average 1.6 percentage points per quarter on a year-over-year basis.
The company has now seen net income rise in three-straight quarters. In the first quarter, net income rose 34.1% and in the fourth quarter of the last fiscal year, the figure rose 18%.
Revenue has now gone up for three straight quarters. In first quarter, revenue rose 19.2% to $869.5 million while the figure rose 8.9% in fourth quarter of the last fiscal year from the year earlier.
The company topped expectations last quarter after falling short of forecasts in the first quarter with net income of 96 cents versus a mean estimate of net income of $1.06 per share.
Competitors to Watch: Bucyrus Intl., Inc. (NASDAQ:BUCY), Caterpillar (NYSE:CAT), Deere & Company (NYSE:DE), General Electric Company (NYSE:GE), Astec Industries, Inc. (NASDAQ:ASTE), Columbus McKinnon Corp. (NASDAQ:CMCO), Manitowoc Company, Inc. (NYSE:MTW), Cummins Inc. (NYSE:CMI), CNH Global N.V. (NYSE:CNH), Navistar Intl. Corp. (NYSE:NAV), Terex Corporation (NYSE:TEX), and Lindsay Corporation (NYSE:LNN).
Stock Performance: Shares of JOYG are up over 3% this morning.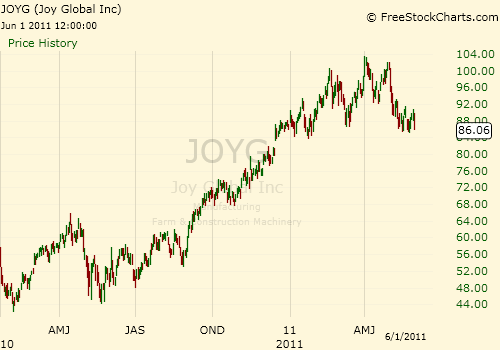 Don't Miss Wall St. Cheat Sheet's newest Feature Trades of the Month!
(Sources: YahooFinance, Xignite Financials)