JPM Earnings Are This Ugly Without Accounting Tricks
JPMorgan Chase & Co.(NYSE:JPM) reported its earnings for the third quarter and markets disapproved.  The second largest US bank posted a fall in net income to $4.3 billion ($1.02 per share), compared to $4.42 billion ($1.01 per share) last year.  Shares traded 2% down in pre-market trading, and extended losses to more than 6% once investors digested the earnings report.
Although JPM beat lowered expectations, there are many reasons for investors to be concerned with the entire financial industry (NYSE:XLF).  A deeper analysis reveals that nearly 29 cents of earnings per share came from an accounting trick known as DVA, debit value adjustment.  Due to the bank's widening credit spreads, accounting rules allow for the adjustment, because in theory a profit would be realized if the bank bought back its debt at a discount.  The DVA adjustment, which does not relate with the fundamental operations of the bank, added a whopping $1.2 billion in net income for the third quarter.  Jamie Dimon, JP Morgan Chairman and CEO explains, "The DVA gain reflects an adjustment for the widening of the Firm's credit spreads which could reverse in future periods and does not relate to the underlying operations of the company."  After taking the accounting-gain into consideration, JP Morgan only earned 73 cents per share, well below average estimates of 92 cents per share.  What's even more troublesome, is that other major banks that are set to release earnings next week are likely to artificially boost earnings with the same adjustment.
Don't Miss: These Wall Street Firms are About to Start Firing People Like Crazy!
As the chart shows below, major banks have little wiggle room to disappoint investors.  Compared to the S&P 500 (NYSE:SPY), all major banks have underperformed this year.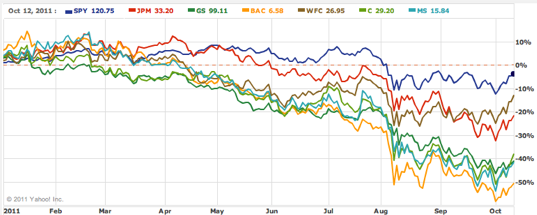 Accounting deception at big banks is not a new issue.  In 2008, big banks pushed Congress to change accounting methods from Mark-to-Market to Mark-to-Model.  Mark-to-Model (also known as Mark-to-Make-Believe) basically allowed banks to avoid large write downs due to the credit bubble busting.  The big banks succeeded in their quest to hide their balance sheet problems.  This uncertainty and deception will continue to push investors away from the big banks (NYSE:KBE).  Barry Ritholtz comments, "Investors do not really have a clear idea of how healthy any of these banks truly are. We do not know the state of their balance sheets. We do not know what their exposures are to mortgages, to Europe, to Greece, etc. They could all be technically insolvent, as far as any investor can tell."
Going forward, investors will be paying close attention to other major banks using the same accounting tricks this earnings season.  On October 17, both Citigroup (NYSE:C) and Wells Fargo (NYSE:WFC) release earnings, while Goldman Sachs (NYSE:GS) and Bank of America (NYSE:BAC) report earnings on October 18.  Morgan Stanley (NYSE:MS) is set to announce earnings on October 19.
Investing Insights for You: Will Bank Profits Disappoint Investors?