JPMorgan Arm Still Top Extel Money Manager and 2 Other Hot Stocks to Watch
JPMorgan Chase & Co. (NYSE:JPM): Current price $54.23
On Monday, at the annual Thomson Reuters Extel awards, JPMorgan Asset Management was named the number-one money manager for the fourth straight year, with Fidelity Management & Research in second place, and BlackRock Investment Management moving up two places to third. These awards are much coveted in the European financial industry and are often called the Oscars of the sector, since they are based on the votes of thousands of industry insiders. This year's awards reflect the votes of over 15,000 individuals from some 6,000 fund managers, brokerages, research houses and top European firms.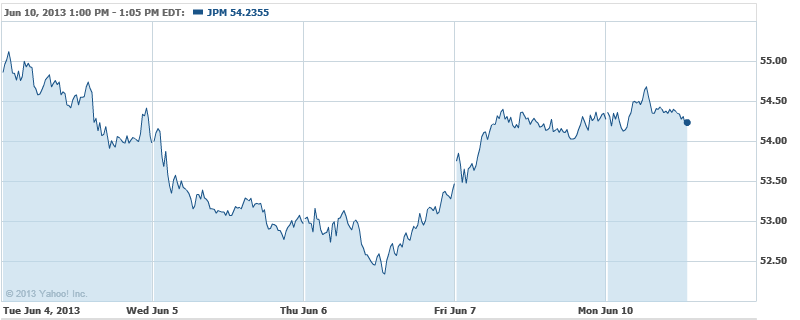 Dynavax Technologies Corporation (NASDAQ:DVAX): Current price $1.56
Dynavax reports the FDA has requested additional safety data concerning its experimental hepatitis B vaccine, potentially pushing back its approval and sending shares down by as much as 30 percent. Analysts said that the firm will be obliged to run an additional trial on Heplisav, Dynavax's most advanced clinical candidate. In a note, analyst Phil Nadeau at Cowen and Co. said that the outcome of Dynavax' meeting with the FDA was disappointing, commenting, "We project a 2016 Heplisav launch and that Dynavax must spend over $300 million in R&D prior to Heplisav's approval."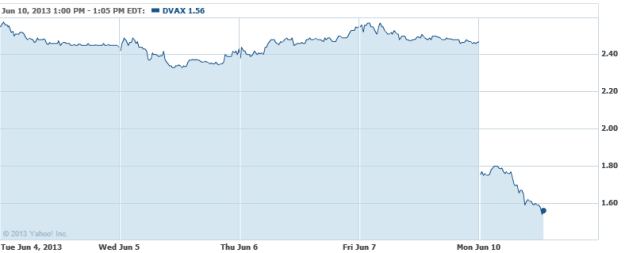 Elan Corporation (NYSE:ELN): Current price $13.58
Elan said Monday that its board of directors has "unanimously and without reservation" rejected Royalty Pharma's most recent bid to purchase all of its outstanding shares, according to Tim Brugger at The Motley Fool. Royalty announced a new bid on Friday, which was upwardly revised to$13 per share from a prior $12.50, together with contingent value rights worth up to$2.50 a share, said Elan, whose board responded, "The value gap between the underlying value of Elan plc and the totality of its business platform and the Royalty Pharma/Echo bid remains significant and the $13 cash and $2.50 CVR structure continues to be wholly inadequate for Elan shareholders."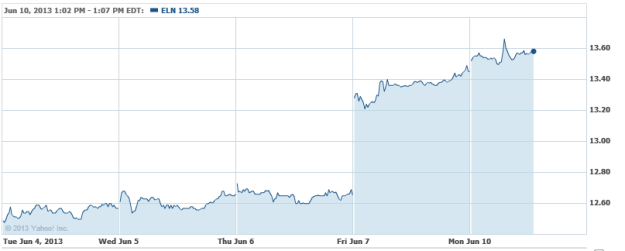 Don't Miss: Charity Lunch with Warren Buffett a 'Bargain' $1 Million.