JPMorgan Asks For Bloomberg Data and 2 Other Dow Movers to Watch
JPMorgan Chase & Co. (NYSE:JPM): Current price $51.42
Attorneys for JPMorgan are requesting financial news and that the data firm Bloomberg LP relinquish any records it has of reporters researching the login and usage data of JPMorgan employees. A knowledgeable source said that a formal letter was sent this week requesting data going back to 2008, as the bank determines whether the seller of ubiquitous trading data terminals was in breach of contract. This news comes following the revelation on Friday that, until recently, Bloomberg reporters had special access to client usage data and tried to use it to break stories.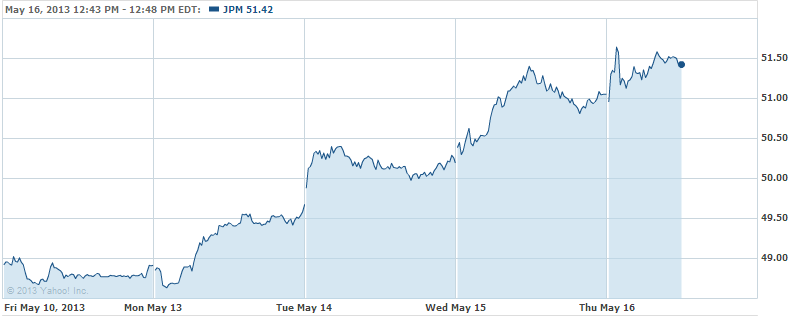 Alcoa (NYSE:AA): Current price $8.50
Alcoa has announced that the Chief Operating Officer, Alcoa's Global Primary Products, Robert Wilt has been named president of Global Primary Products effective June 1. Wilt will succeed Chris Ayers, who is exiting Alcoa to become president and chief executive of Wireco World Group. In his new position, Wilt will have overall responsibility for the Primary unit that includes global aluminum smelters, refineries and mines throughout the United States, Latin America, Australia, Iceland, Guinea, Europe, and Canada. Further, Wilt is a member of the Alcoa Executive Council, the senior leadership team that determines strategic direction for the firm.

Johnson & Johnson (NYSE:JNJ): Current price $87.55
The company has won United States approval to use its rheumatoid arthritis drug Simponi to treat patients suffering from a moderate to severe inflammatory bowel disease. The FDA on Wednesday okayed the drug's usage in adults having the chronic condition ulcerative colitis after conventional therapy has failed or continuous steroid use is required. Approximately 620,000 people in the United States have the disease, which leads to ulcers in the colon and rectum that cause abdominal pain and diarrhea, according to an FDA statement.

Don't Miss: Fed's Lacker: Time to End Housing Stimulus.