JPMorgan CEO Dimon Said to Be Safe from SEC Inquiry and 2 Other Hot Stocks to Watch
JPMorgan Chase & Co.  (NYSE:JPM): Current price $53.18
According to The Street, it is not expected that Chairman and Chief Executive Jamie Dimon will be drawn into an ongoing inquiry by the Securities and Exchange Commission into JPMorgan's now-famous $6.2 billion trading loss of 2012. The Commission, even after gaining an admission by the Big Bank that it violated federal securities laws in its dealing with the trade, is still looking into individuals that were involved. However, as the matter stands now, the ongoing investigation is not likely to aim at Dimon.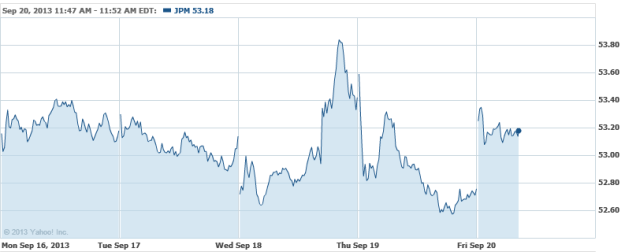 Bank of America Corp. (NYSE:BAC): Current price $14.52
On Friday morning, Société Générale began coverage of the shares Bank of America with a Buy. In its report, the firm observed that the Charlotte-based bank cost cutting endeavors and potential for revenue growth are compelling drivers for the stock while setting a price target of $17.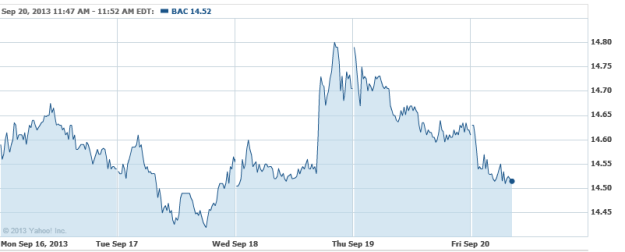 Groupon Inc. (NASDAQ:GRPN): Current price $12.52
United States District Judge Charles Norgle in Chicago has ruled that the coupon company must face an investor-led class-action lawsuit first filed in April of last year. Groupon lost its request for dismissal of the lawsuit, which alleges that the firm misled investors regarding its financial performance prior to its initial public offering in November 2011, accusing the company of securities fraud, and claims that it used impermissible refund accounting to boost revenues in a prospectus linked with its IPO and in later Securities and Exchange Commission filings.

Don't Miss: What Is Preventing Americans From Saving for Retirement?