JPMorgan Chase Bank CEO Dimon is Now Chairman Emeritus and 2 Other Dow Movers to Watch
JPMorgan Chase & Co. (NYSE:JPM): Current price $52.45
A filing with regulators that was released Thursday said that Chief Executive Jamie Dimon has relinquished his title of chairman of the firm's primary banking subsidiary. Now, Dimon is listed as chairman emeritus of JPMorgan Chase Bank N.A. in the public area of the "living will," as submitted to the Federal Reserve and the Federal Deposit Insurance Corp. Meanwhile, a Reuters report says that Dimon surrendered the role in compliance with a new internal policy regarding holding multiple roles.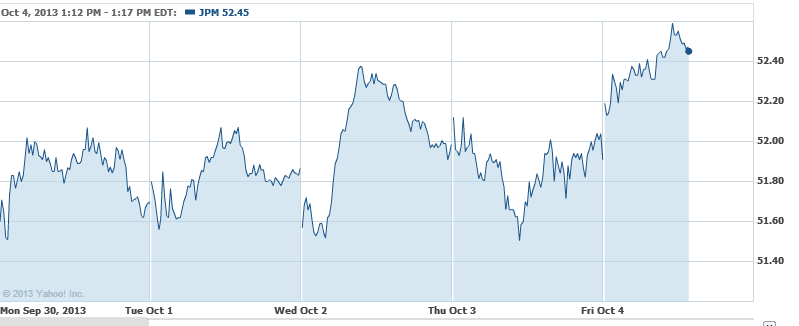 The Walt Disney Co. (NYSE:DIS): Current price $64.96
The Walt Disney Studios has reached into an agreement with Christie through which to supply the most recent digital cinema technologies and an array of professional services for the Studios' production, post-production, screening rooms, and premieres. Besides that, Christie's  Managed Services will provide Disney's engineering team with 24/7 support for Disney's digital cinema facilities, supported by Christie's Network Operations Center and Christie's on-site preventative maintenance services.

Intel Corp. (NASDAQ:INTC): Current price $22.82
Intel Chief Executive Brian Krzanich has announced that his company will work together with Arduino LLC, an open-source hardware platform in the education community. Krzanich also introduced the Intel Galileo board, representing the first product in a new line of Arduino-compatible development boards featuring Intel architecture, commenting that, "I look forward to our collaboration and believe that our work together will produce some fantastic development vehicles that help foster some very exciting innovations."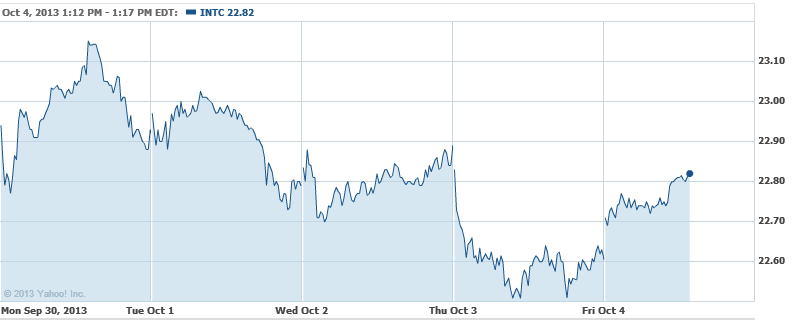 Don't Miss: 5 Vital Steps to Protect Your Finances from Government Shutdowns.