JPMorgan Chase Hosts the Italian Tax Police and 3 Other Hot Stocks
JPMorgan Chase (NYSE:JPM): JPMorgan's offices in Italy received a visit from Italian regulators, as the bank is under investigation in an ongoing probe centered around the Montedei Paschi bank, and its costly purchase ofAntonveneta bank that JPMorgan helped finance. Sources told Reuters that the Italian tax police were told to check for evidence at JPMorgan's offices, seeking documents regarding the 9 billion euro purchase of Antonveneta. JPMorgan did not make comment, and denied suggestions of wrongdoing.

UnitedHealth Group (NYSE:UNH): United anticipates that budget cuts as a result of the sequestration will take an estimated 250 million to 300 million toll on the company, as the Medicare Advantage expects underfunding in 2014, according to United's CEO.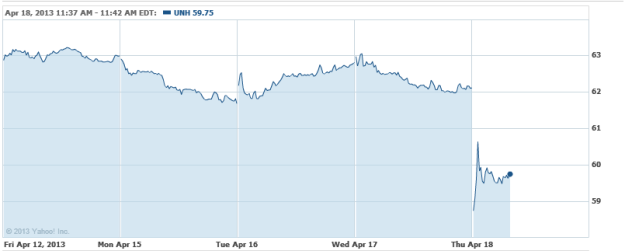 Morgan Stanley (NYSE:MS): The bank reported earnings per share of $0.61, beating estimates of $0.04. Net revenues of $8.2 billion beat projections by $0.13 billion, and income from continuing operations was $1 billion — up from the $79 million loss during the same period a year ago. Advisory fees clocked in at$251 million, compared with $313 million a year ago. The bank attributes the decline to "lower levels" of market activity.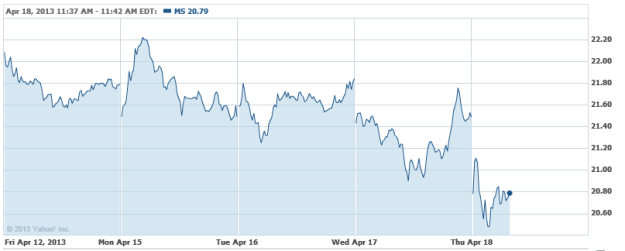 Travelzoo (NASDAQ:TZOO): Travelzoo reported a positive Q1, beating estimates and sending its shares soaring. Revenue grew by 7 percent, and net income of $5.6 million represents a 49 percent year-over-year increase. Earnings per share of $0.36 beat estimates of $0.34,helped significantly by growth in Travelzoo's business segment revenue in both North America as well as Europe.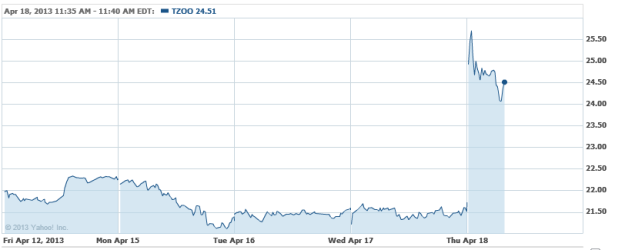 Don't Miss: Does Bernie Madoff Still Haunt JPMorgan?