JPMorgan Could Save 35 Percent in DOJ Settlement and 2 Other Hot Stocks to Watch
JPMorgan Chase & Co. (NYSE:JPM): Current price $53.80
JPMorgan's negotiations with the Justice Department are becoming overshadowed by one aspect of United States tax law that is raising red flags to some lawmakers and consumer groups who fear that it could save the Big Bank billions of dollars in the long run. Any accord between the government and JPMorgan concerning mortgage-bond sales that does not take taxes into account would permit the firm take a deduction and trim a whopping 35 percent off any resolution cost, a fact that could be overlooked in headlines. Tax and budget associate at the U.S. Public Interest Research Group Francisco Enriquez observed that, "It shouldn't have hidden subsidies or sweeteners in the settlement. If the DOJ is, in the end, going to look for a $6.5 billion price tag, then that's what they should say."

Mechel OAO (NYSE:MTL): Current price $2.34
Wednesday is turning out to be a dismal day for the Russian coal-to-steelgroup Mechel, as its shares plunged by over 40 percent in Moscow and New York, with traders saying that a proposed debt restructuring had ignited heavy share sales by its creditor banks. Mechel is dealing with a $9 billion debt, following an acquisition spree that left it exposed to a fall in steel and coal prices. The head cash equities trader at Renaissance Capital in Moscow, Alexei Bachurin reported, "There are lots of stop-loss orders." Shares are down by more than 20 percent in heavy volume in New York.

Chegg Inc. (NYSE:CHGG): Current price $10.22
Chegg Inc.'s IPO is off to a disappointing start on the New York Stock Exchange Wednesday as shares are down by over 20 percent, falling below its initial public offering price at $12.50. The online textbook vendor had offered 15 million shares in its offering.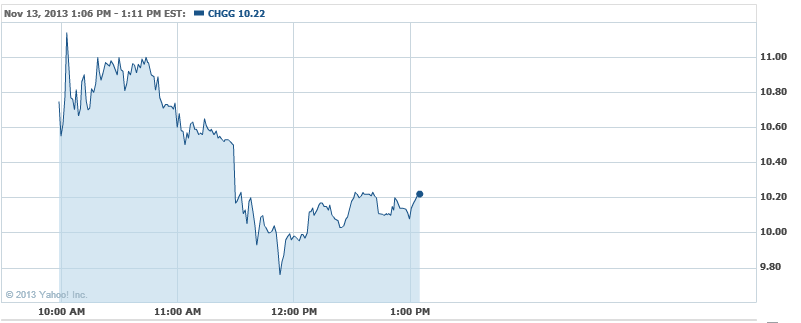 Don't Miss: Blankfein: Banks and Regulators Are Finally Starting to Play Nice.