JPMorgan Faces $11 Billion Fine, JCP Continues Epic Fall: Market Recap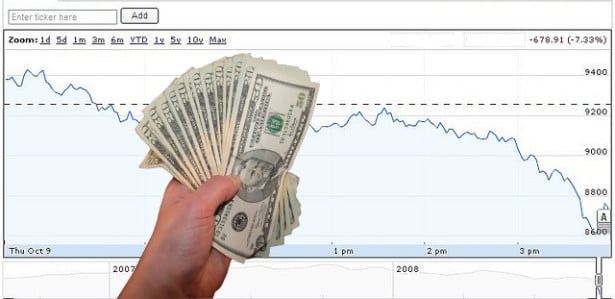 U.S. stocks fell during trading on Friday under investor concern about lawmakers budget talks breaking down, which could lead to a government shut down. Democrats and Republicans can't seem to reach a budget agreement regarding the Affordable Care Act. Economists cited by Bloomberg said that a government shut down could cause economic growth in the quarter to fall by 1.4 percent.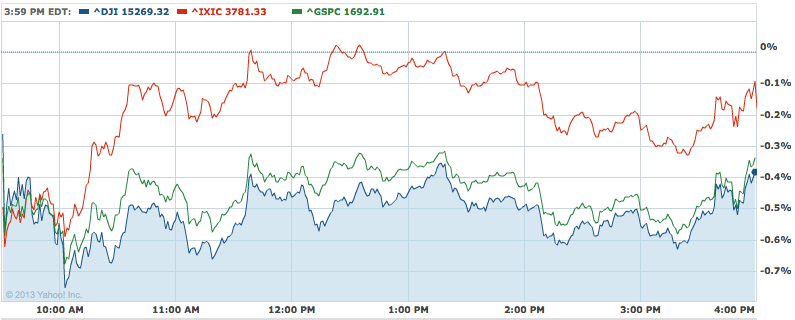 Gold: +0.94% to $1,336.60 per ounce Oil: -0.20% to $102.82 per barrel U.S. 10-Year: -0.91 to 2.691%
Should Investors Ignore the Soap Opera in Washington, D.C.? The political soap opera that Capitol Hill has become does not appear to be ending anytime soon. Once again, elected officials are generating drama and grabbing headlines in regards to America's financial situation. However, that does not mean investors should stick around to watch the show.
Is the Recovery Finally Reaching Main Street? Data released by the U.S. Bureau of Economic Analysis on Friday morning show that consumers weathered economic headwinds fairly well in August. The BEA's Personal Income and Outlays report showed that, fueled by increased income and spending, the consumer sector could actually be a positive contributor to third-quarter gross domestic product, adding some much needed momentum to the beleaguered recovery.
Here's All You Need to Know About China's New Free Trade Zone: China has formally announced plans for the creation of a new free trade zone in Shanghai, Reuters reports. The zone, encompassing roughly eleven square miles on the outskirts of Shanghai, is slated to open this Sunday with certain regulations on international businesses being relaxed starting at the beginning of October. Though the timeline for the zone's opening is very quick, the timeline for real change in the area will be slower.
Here's your cheat sheet to today's top stocks stories:
Microsoft (NASDAQ:MSFT) has reportedly gotten closer to convincing Ford (NYSE:F) Chief Executive Alan Mulally to consider taking over as CEO after Steven Ballmer leaves Microsoft. However, earlier this month, Mulally denied he had plans to leave the automaker. But it bears remembering that Mulally acted as a close adviser to Ballmer when he planned Microsoft's realignment.
J.C. Penney (NYSE:JCP) has had a rough week. Shares — which were already nearly 55 percent below year-ago levels — plunged 15 percent to a thirteen-year low of $10.22 when analyst commentary predicting a rough fourth-quarter for J.C. Penney reached the market on Wednesday. J.C. Penney stock continued to fall, closing at $10.12 on Wednesday after the news and falling further to close at $8.97 on Friday.
JPMorgan (NYSE:JPM) is facing the wrath of U.S. regulators. If U.S. Attorney General Eric Holder is a shark, then he's circling JPMorgan, and there's blood in the water. Regulators have threatened to sue JPMorgan, America's largest by assets, claiming that it knowingly sold bad mortgage-backed securities to investors. Regulators are seeking as much as $11 billion total from the bank for this and related alleged violations of securities laws.

Hulu CEO Andy Forssell spoke about the company's prospects for becoming an ad-free service at the Goldman Sachs Communacopia conference in New York on Wednesday. Forsell said he foresees Hulu charging its users a bit more for an ad-free experience, a move that would help the online TV streaming service compete more aggressively with rival Netflix (NASDAQ:NFLX).
Oracle (NASDAQ:ORCL) Chief Executive Officer Larry Ellison may face some angry shareholders at the company's annual meeting on October 31, as many are discontent over the high pay he continues to receive while the company has performed poorly over the past few quarters. According to a Wall Street Journal report, investor CtW Investment Group has written a letter to the chairman of Oracle's board's compensation committee.
Google (NASDAQ:GOOG) unveiled the latest updates to its famed search engine at a press event on Thursday in the garage of the Menlo Park, California, house where Google started. According to Forbes, Google made the change about a month ago, but purposely didn't announce the advance until one day before the celebration of its 15th anniversary.
Don't Miss: How Does Bill Gross Really Feel About U.S. Sovereign Debt?
Follow Jacqueline on Twitter @Jacqui_WSCS