JPMorgan Faces New Fines by EU Regulators and 2 Other Dow Movers to Watch
JPMorgan Chase & Co. (NYSE:JPM): Current price $51.97
European Union antitrust regulators are poised to fine six world banks including JPMorgan, Deutsche Bank, and HSBC for alleged rigging of benchmark eurozone interest rates, a source told Reuters. These penalties mark the first punishments handed out by Brussels in a worldwide inquiry and are only the most recent expensive fines for the industry. However, these particular penalties are only connected to claimed manipulation of Euribor; banks accused of rigging Libor could be fined in December after the Euribor penalties are announced, according to the source.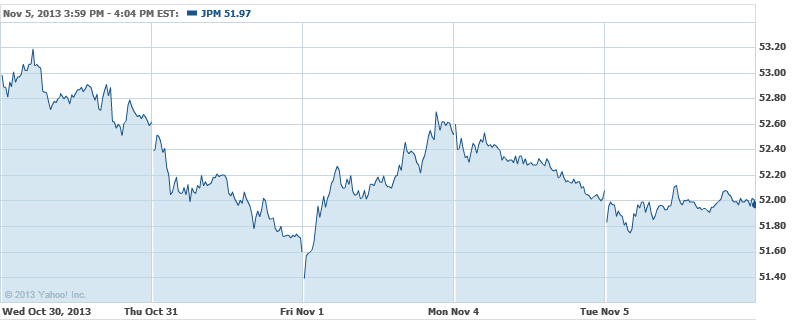 Boeing Co. (NYSE:BA): Current price $133.59
Boeing and Air Europa on Tuesday commemorated the latter's 25th direct delivery of a Next-Generation 737-800, which it showcased at a special event at its base on the island of Mallorca. The 737-800 constitutes the main pillar of Air Europa's short- and medium-haul fleet, with the carrier ready to take delivery of another nine from Boeing. Last year, the operator was the first in Spain to bring the Boeing Sky Interior to its Next-Generation 737 fleet, supplying its passengers with improved in-flight comfort.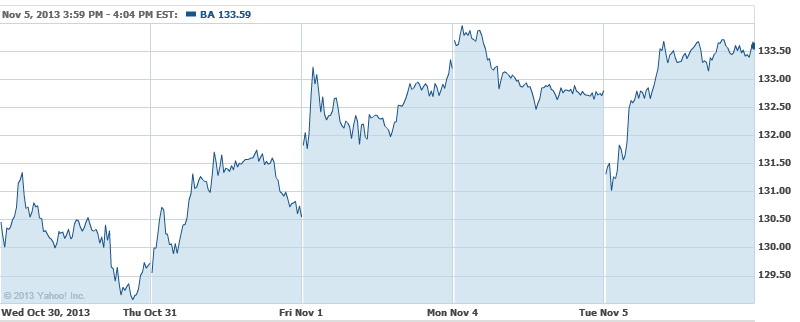 Chevron Corp. (NYSE:CVX): Current price $118.42
Ukraine on Tuesday inked a $10 billion shale gas output-sharing arrangement with Chevron in its second such deal of 2013. The production-sharing accord with Chevron, confirmed by an announcement on President Viktor Yanukovich's website, entails an initial investment of $350 million by Chevron in exploratory work meant to establish the commercial viability of shale reserves at the 5,260-square-kilometer Olesska field. The amount of total investments, including extraction subsequent to exploratory drilling, are calculated at about $10 billion.
Don't Miss: Will This Major Drop in Confidence Hurt the Economy?