JPMorgan Gets Resolution With AMC Funds and 2 More Heavily Traded Stocks to Follow
JPMorgan Chase & Co. (NYSE:JPM): Current price $55.62
The Wall Street bank and a group of funds based in Chicago have agreed to resolve a lawsuit in which the funds alleged that JPMorgan gave misinformation in regards to residential mortgage-backed securities. AMF Funds brought a suit against JPMorgan in New York State Supreme Court in Manhattan in February of last year, accusing the bank of making "material representations and omissions" on underwriting standards employed to make mortgage loans pooled into $515.6 million of securities bought from May 2003 to May 2007. The parties have made an agreement in principle to settle the suit, indicated by letters filed by both sides in the past week. The former shareholder of AMF Funds Watertown Savings Bank, has asked to intervene in the case, a move that is opposed by both sides.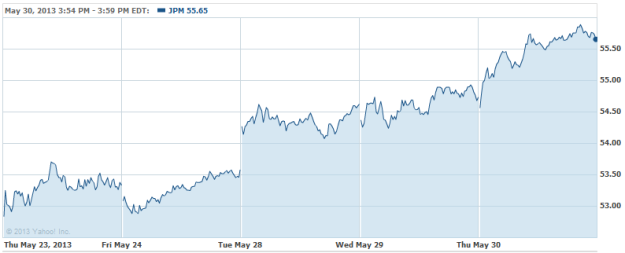 AT&T (NYSE:T): Current price $35.50
The telecom behemoth will hire 225 new employees in Mississippi, along with filling 25 open positions as part of a plan through which to upgrade its wireless and wireline network in that state. The new employees will swell AT&T's current Mississippi workforce of 2,700 people by around 8 percent. Spokeswoman Sue Sperry announced that the workers are needed as part of the firm's three-year Project Velocity, which intends to increase the number of wireless antennas, introduce faster wireless speeds, add more fiber optic cable for businesses and broaden other high-speed wired networks.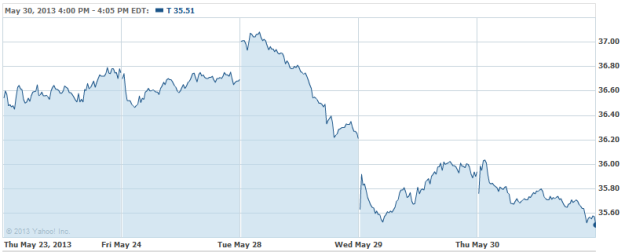 Smithfield Foods (NYSE:SFD): Current Price $32.74
Should the acquisition deal between Shuanghui International Smithfield Foods collapse, the latter could score $275 million for its inconvenience. The figure is the fee Shuanghui could be obliged to pay the American pork company if the deal fails due to regulatory or antitrust matters, according to a filing. That much money would comprise almost 5.9 percent of the deal's equity value. However, the payment does not pertain if the deal is taken to task by the Committee on Foreign Investment in the United States, or CFIUS, the secretive review process to which they have voluntarily submitted. Experts and the parties themselves have said that a CFIUS rejection seems remote in this case, but this is the biggest attempt by a Chinese company to acquire an American company, so it is expected to be closely scrutinized.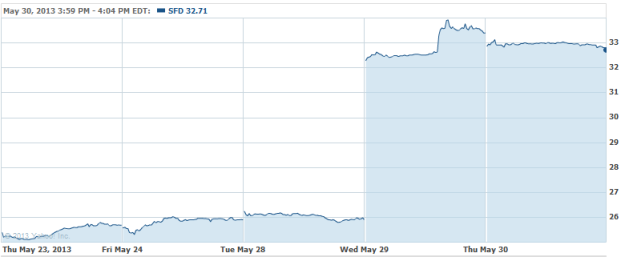 Don't Miss: The Housing Recovery Hits Another Speed Bump.