JPMorgan Gives Regulators Evidence of Nepotism in China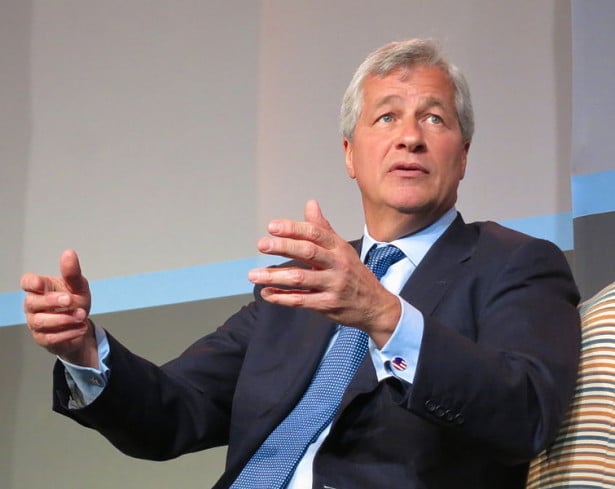 Descendents of prominent and influential senior communist officials — known as Chinese Princelings — have significant political clout, meaning the ability to make business dealings run more smoothly for foreign companies in China, a country where cultural misunderstandings and bureaucratic red tape can make business difficult.
Regulators have long believed that the banking industry has made use of the scions of politically well-connected families, and the Securities and Exchange Commission and the Department of Justice are now questioning officials to determine whether financial institutions have acted with "corrupt" intent or with the expectation of receiving government business in exchange for a offering certain applicants jobs. Under the 1977 Foreign Corrupt Practices Act, a company is prohibited from giving a personal benefit or "anything of value," meaning a bribe, to a decision maker in return for "an improper advantage" in securing or retaining business. All this is to say a bank can hire the family and friends of government officials so long as the bank did not explicitly trade job offers for business deals.
From a confidential email obtained by the New York Times, it seems the politically well-connected job hunters in China can do more than just get on a bank's payroll; they can land a job in JPMorgan Chase's executive suite of offices in midtown Manhattan. The publication reported Sunday that an internal company email showed a top Chinese regulator, Xiang Junbo, directly asked JPMorgan Chief Executive Officer Jamie Dimon for a "favor." The favor was hiring a family friend. The young woman, as she was described by the Times, now works at JPMorgan. But the publication declined to reveal her name as she has not been accused of any wrongdoing and she is not a public figure.
The revealing email was part of a package of documents JPMorgan submitted to federal regulators as part of an ongoing investigation into banking industry hiring practices. Such practices are known as "Sons and Daughters" hiring programs, which gives politically-connected applicants fewer interviews and other special treatments.
In June 2012, Xiang and the applicant came to New York, and during the meeting with Dimon, she acted as a translator. JPMorgan has said the chief executive was not involved in her hiring, and she is described within the bank as well qualified, reported the Times. Through sources familiar with the investigation, the publication learned that Dimon is not suspected of any wrongdoing. "Our C.E.O. played no role in the hiring decision, did not weigh in, and did not follow up," a bank spokesperson, Joseph Evangelisti, said in a statement acquired by the publication. "It is his normal practice to pass on referrals without advice to those involved in hiring."
As for Dimon, he has downplayed the bank's reasons for hiring well-connected applicants. In an interview with CNBC, he said that, "It's been a norm of business for years that people hire, you know, ex-government officials, they hire sons and daughters of companies, and give them proper jobs and don't violate, you know, American Foreign Corrupt Practices Act." While the law applies only to deals in which a government official was involved, if private companies are deemed to effectively be arms of the government a violation of the corrupt practices act could be brought.
But it should be noted that at the time of the meeting between the bank chief executive, the Chinese banking regulator, and the applicant, JPMorgan was attempting to secure lucrative work from Chinese insurance companies, deals over which Xiang would have significant influence. However, it has not been proven that the timing of her employment had any connection with JPMorgan's Chinese insurance business, some of which had be won before the meeting. Furthermore, the applicant had no role in those deals, sources told the publication. Yet, those sources briefed on the incident also said a JPMorgan banker based in Asia had described Dimon's meeting with Xiang as "strategically important," in light of a series of deals the bank was trying to ink with Chinese insurance companies.
This incident encapsulates the forces driving Wall Street banks like JPMorgan to hire the family and friends of China's ruling elite. Financial institutions want to build favorable relationships with Chinese officials, who expect favors from the banks in return.
Now, federal authorities are investigating hiring patterns at JPMorgan and at least six other major institutions to determine whether certain individuals were hired for the sole purpose of obtaining business from Chinese companies. The hiring of the applicant connected to Xiang is a prime example. As the confidential email detailed, the meeting concluded with Xiang introducing his translator to Dimon as the daughter of a friend and a potential JPMorgan employee, reported the Times. As Xiang "extolled the benefits of hiring her," she translated. Individuals familiar with the meeting informed the publication that Dimon was not expecting her to be in attendance, but he told Xiang that the bank would "do what we can."
The email in question was sent after that meeting. It was authored by a JPMorgan banker in Hong Kong, who described how Xiang asked Dimon "for favor to retain her in U.S. team," according to the Times. That banker, who made business deals with Chinese insurance companies, stressed "the importance of this relationship and specialty in the insurance area," adding that "we will be expected to find a solution for her quickly." In the months after that meeting, at least four deals were inked with Chinese insurance companies, deals that Xian oversaw, according to public filings. Those filings also show that five top insurance companies with headquarters in mainland China or Hong Kong have become clients of JPMorgan.
This is not the only hiring incident that has come to light. As an email reviewed by the Times revealed, the daughter of a top executive at Tianhe, a private Chinese chemical company, complained soon after joining the bank's staff in 2011 that her contract was not as favorable as those given to other JPMorgan employees as it was not permanent and lacked a housing allowance. At the time, JPMorgan was attempting to secure an advisory role on Tianhe's initial public offering. In the email, a Hong Kong-based executive noted that, "It sounds to me like the deal is large enough, we are pregnant enough with this person, that we'd be crazy not to accommodate her father's wants." However, the bank subsequently withdrew from the potential $1 billion I.P.O.
JPMorgan is conducting an internal investigation aimed at examining the hiring of approximately 200 people for instances of possible illegal nepotism.
Previously, much of the federal probe has concentrated on bank's hiring patterns in Kong Kong and mainland China, not the United States. But the recently obtained documents have opened up a new avenue of investigation. They also shed a light on the connections between JPMorgan job applicants and regulators of China's main industries, state-own companies, and private business leaders. In fact, the package of documents JPMorgan submitted to federal regulators provided one of the most detailed looks into the nature of the bank's hiring practices.
Other Wall Street banks — Citigroup (NYSE:C), Credit Suisse (NYSE:CS), Deutsche Bank (NYSE:DB), Goldman Sachs (NYSE:GS), Morgan Stanley (NYSE:MS), and UBS (NYSE:UBS) — have also received information requests from investigators, as sources briefed on the federal probe told the Times.
More From Wall St. Cheat Sheet:
Follow Meghan on Twitter @MFoley_WSCS