JPMorgan Hires Morgan Stanley Exec and 2 Other Dow Movers to Watch
JPMorgan Chase & Co. (NYSE:JPM): Current price $54.25
JPMorgan has recruited the Morgan Stanley executive Travis Machen to manage corporate banking for hedge funds, money managers and other mid-sized financial firms. Machen had been co-chief of Morgan Stanley's North American banks group in the investment-bank division, according to JPMorgan in a statement on Tuesday. He will oversee the firm's financial institutions group within its commercial bank, which serves clients who have $50 million to $25 billion in assets.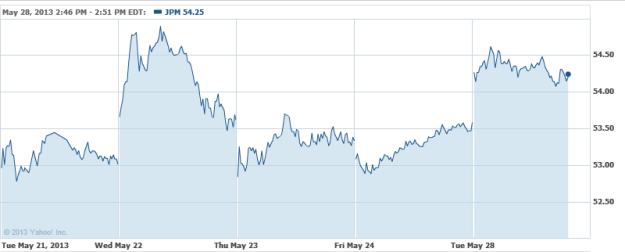 Pfizer (NYSE:PFE): Current price $29.00
The drug giant intends to issue benchmark bonds in its first dollar-denominated debt sale in over four years. As soon as Tuesday, Pfizer will offer three-, five-, 10- and 30-year securities, according to a knowledgeable source. The notes will be used to repay the firm's 1.85 billion euros of 3.625 percent bonds due June 3, indicated a regulatory filing. Proceeds may be used to repay a portion of Pfizer's $750 million of 4.5 percent debentures, and $1.75 billion of 5.5 percent securities, both maturing in February 2014, according to the filing.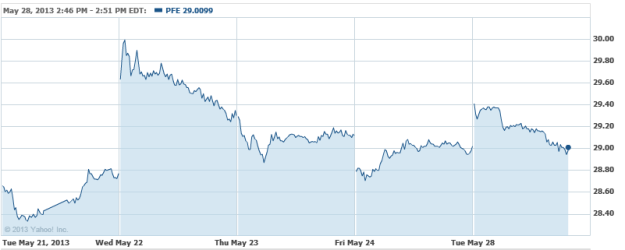 Procter & Gamble Co. (NYSE:PG): Current price $81.02
P&G announced Tuesday that it has delivered the six billionth liter of clean drinking water, as it fulfills its Clinton Global Initiative commitment to save one life every hour by the year 2020. The commitment was made in 2010 at the CGI Annual Meeting, and is concerned with providing two billion liters of clean drinking water every year, by 2020. Thus far, clean drinking water provided by P&G has saved an estimated 32,000 lives, and averted 250 million days of diarrheal illnesses throughout 71 countries. The six billionth liter was delivered in Myanmar, via a collaboration with World Vision, by Dr. Greg Allgood, founder and director of P&G Children's Safe Drinking Water Program, and Chelsea Clinton, board member of the Clinton Foundation.

Don't Miss: Did JPM Shareholder Vote Strengthen Dimon's Grip On Power?