JPMorgan Investigations Called Aggressive By William Daley and 2 Other Dow Movers to Watch
JPMorgan Chase & Co. (NYSE:JPM): Current price $52.16
Interviewed on Thursday on CNBC's Squawk Box, former JPMorgan man and White House chief of staff to President Barack Obama, William Daley, remarked that the federal investigations into JPMorgan Chase indicate "a bit of an aggressiveness" due to Chief Executive Jamie Dimon's "notoriety" and his bank's success.
Daley observed that ,"They make a great target because they make a lot of money and they've done real well. Jamie's as good a CEO as there is in any industry. The government's got to look at them. I think there's a bit of an aggressiveness here because of Jamie's notoriety, and the fact is JPMorgan has been very successful financially. They are an easy target. If they were on their knees [the government] probably wouldn't be so anxious to try to pound them."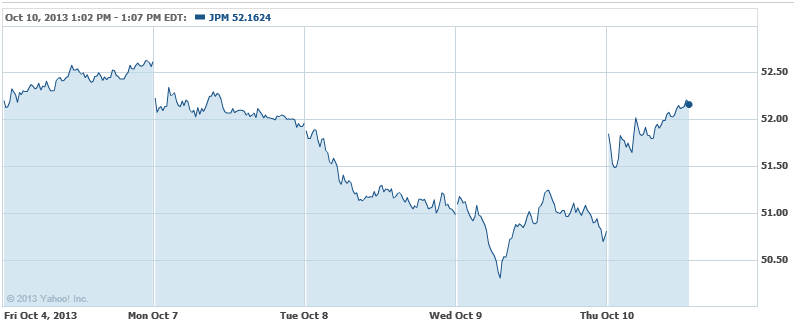 Wal-Mart Stores Inc. (NYSE:WMT): Current price $74.42
Wal-Mart's plan to launch a chain of supermarkets in India hit the wall after it ended a six-year local partnership with the billionaire Sunil Mittal. For the present, Wal-Mart will have to be satisfied with its chain of wholesale stores in that country until it can locate a new Indian partner with which to open supermarkets. On Wednesday, the giant retailer agreed to purchase the stake held by Mittal's Bharti Enterprises Pvt. in their joint venture. Vice President Rakesh Gambhir of the industry group Food & Grocery Forum India, said that, "Wal-Mart is clearly the loser here. They will have to go back to the start and build the business on their own."

AT&T Inc. (NYSE:T): Current price $34.02
AT&T is connecting businesses to broadband at an impressive rate nowadays. Thus far, service crews have installed fiber to an additional 750 multi-tenant buildings spanning Florida, making fiber-based broadband services available to over 25,000 business customer locations. AT&T's services are particularly beneficial to businesses that regularly process large files like illustrations, medical images, videos, engineering designs, and large presentation decks.

Don't Miss: John Cassidy Prescribes a Market Crash for America's Political Constipation.