JPMorgan Market Revenue Soars Year-Over-Year and 2 Other Dow Movers to Watch
JPMorgan Chase & Co. (NYSE:JPM): Current price $50.05
The co-chief of JPMorgan's corporate and investment bank Michael Cavanagh reports that revenue from the markets businesses, among which include trading of bonds and equities, is approximately between 10 percent to 15 percent greater this quarter than the year-over-year period. Cavanagh made the comment at a conference in New York hosted by UBS, according to a transcript. e said that revenue from markets businesses are "running about 10 percent to 15 percent higher than the second quarter of 2012. The revenue is "still down a bit from the typically strong first quarter that we just had."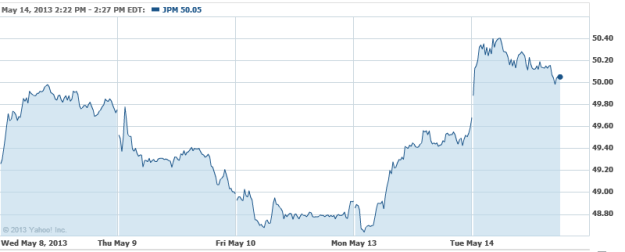 Merck & Co. (NYSE:MRK): Current price $46.52
The German pharmaceutical and high-tech materials firm Merck KGaA has seen higher prices for its multiple sclerosis drug Rebif, which are credited for the company posting a 54 percent jump in first-quarter profit. What is more, Merck enjoyed stronger sales of materials for liquid-crystal displays and elevated its profit forecast, projecting that it would meet its 2014 goals this year. Its optimism came after it posted a net profit of $345 million in the first three months of the year.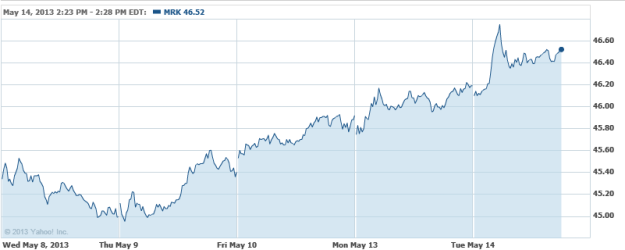 E.I. DuPont de Nemours and Company (NYSE:DD): Current price $55.02
Syngenta and DuPont have reached tech licensing agreements that will broaden each firm's crop protection product portfolio, and permit both parties to bring new products to market in a more efficient manner. For its part, Syngenta gets a global license from DuPont through which to develop products that contain DuPont's fungicide oxathiapiprolin. Under the terms, Syngenta receives exclusive rights for foliar and soil uses on all crops in North America, and for lawn and garden uses on a worldwide basis. Beyond that, Syngenta obtains rights on certain crops for seed treatment globally and for the creation of foliar and soil uses on certain crops outside of North America. DuPont gains exclusive access to Syngenta's Solatenol for mixture with DuPont's picoxystrobin fungicide on soybean and other crops in Brazil.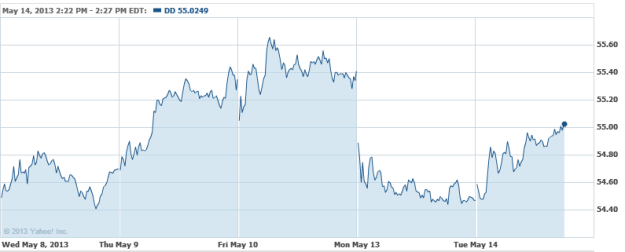 Don't Miss: The Embarrassing IRS Revelation Is Getting Uglier.