JPMorgan Named Adviser by UK Financial Investments and 2 Other Hot Stocks to Watch
JPMorgan Chase & Co. (NYSE:JPM): Current price $56.10
The regulatory authority that monitors the British government's interest in Royal Bank of Scotland and Lloyds Banking Group has appointed JP Morgan to initially advise it on a possible divestiture of shares. UK Financial Investments announced that JP Morgan Cazenove will serve as its privatization strategy adviser, and help form strategies "for realizing value for the government's shareholdings in the banks." The advisory appointment will be reviewed upon a periodic basis. UKFI  also listed over a dozen banks it has shortlisted to collaborate with it on any share sale.

BlackBerry (NASDAQ:BBRY): Current price $9.19
BlackBerry shares are rising moderately Friday morning, subsequent to the research firm BMO Capital's upgrading of the stock. Analyst Tim Long wrote in an investors' note earlier today that BlackBerry's stock largely mirrors the problems the company was facing after the company's shares fell by 35 percent during June. Additionally, Long thinks that businesses might begin to purchase more of BlackBerry's new devices, since the firm recently added key new security features to its products, which might lure in more purchases by companies.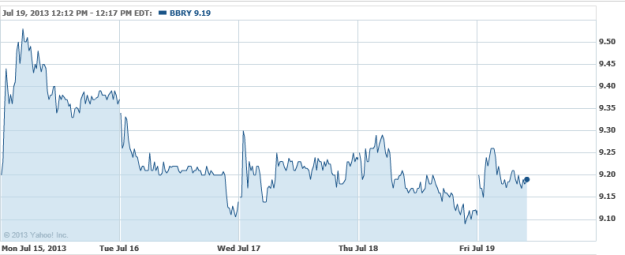 Schlumberger Ltd. (NYSE:SLB): Current price $82.76
A three-decade high for drilling level activity outside North America led Schlumberger to a seventh consecutive quarterly profit that exceeded consensus estimates. Shares of the global oilfield services company are up more than 4.5 percent close to noon, briefly touching a nearly two-year high. Analyst Angie Sedita at UBS was impressed by Schlumberger's assertive execution in almost every region, writing, "Additionally positive data points for continued strength in the international and deepwater markets support strong growth in the years ahead."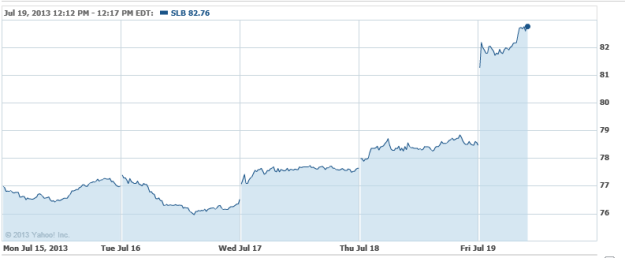 Don't Miss: GM Trucks Still Tip the Scale, but Not for Long.