JPMorgan Names Co-Chiefs For UK Investment Banking Arm and 2 Other Dow Movers to Watch
JPMorgan Chase & Co. (NYSE:JPM): Current price $54.11
A memo obtained by Bloomberg News indicates that JPMorgan has named Ina De and Conor Hillery as co-chiefs of its United Kingdom investment banking business. De, who is currently the co-head of equity capital markets for Europe, the Middle East and Africa, and Hillery, head of the United Kingdom financial institutions group, will report to Chairman Tim Wise, according to the memo, the contents of which were confirmed by a spokeswoman. The research firm Freeman & Co. reported Tuesday that American banks like JPMorgan and Goldman Sachs Group have been boosting their share of European investment-banking fees.

Johnson & Johnson (NYSE:JNJ): Current price $86.36
The number-one maker of health-care products on the planet will pay up to $1 billion to buy Aragon Pharmaceuticals, and thus gain the closely-held firm's experimental prostate cancer drug. In a statement, J&J said that Aragon will receive an initial cash payment of $650 million, and additional payments of as much as $350 million could follow if Aragon's prostate cancer program attains certain milestones. The latter's lead compound, ARN-509, is in the second of the three stages typically required for United States regulatory approval, and may supplement Zytiga, the prostate cancer treatment that J&J unveiled two years ago. It would rival Medivation's Xtandi, Dendreon Corporation's Provenge, and Bayer's Xofigo and Algeta, for tumors that resist hormone therapy.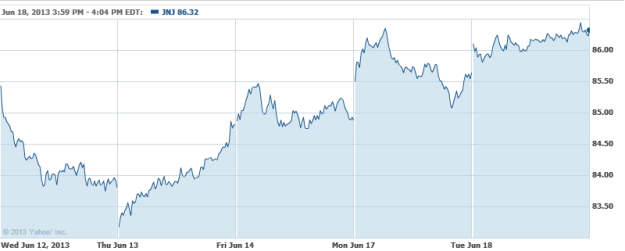 Alcoa (NYSE:AA): Current price $8.21
On Tuesday at the Paris Air Show, Alcoa said that  it has finished the expansion of aluminum lithium capacity at its Kitts Green facility in the United Kingdom, so as to serve the increasing demand for its third generation aluminum lithium alloys. The company projects that its aluminum lithium revenues will quadruple during the next six years to almost $200 million. The Kitts Green expansion was the second step of the three-part expansion program by Alcoa to meet customer demand for advanced aerospace products and patented alloys, which permit airframers to build more fuel efficient and lower-cost airplanes versus composite alternatives.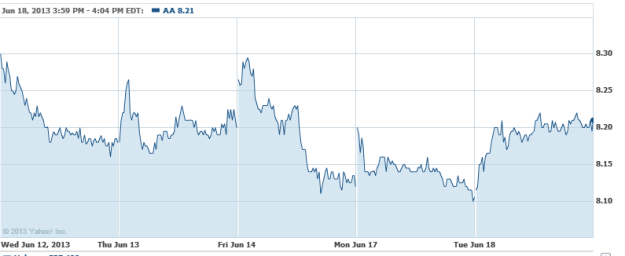 Don't Miss: Obama: Bernanke's Been Around Longer Than He Was Supposed To.