JPMorgan Resolves Bear Stearns 2007 Lawsuit and 2 Other Dow Movers to Watch
JPMorgan Chase & Co. (NYSE:JPM): Current price $52.23
JPMorgan will pay $18.3 million to resolve a mortgage-related lawsuit that was brought in 2007 by complainants who had chosen home loans carrying adjustable interest rates. The charges against JPMorgan and Bear Stearns, which were purchased by the former in 2008, claimed that the firms deliberately did not reveal the resetting of introductory interest rates.
The documents linked to mortgages deceived customers by hiding the fact that the borrowers' principal balance on loans would increase on the payment of the minimum monthly amount. The present settlement follows Bear Stearns' failure to state the actual interest rates on mortgage documents with adjustable rates. At the time, the loans were provided by Bear Stearns division, EMC Mortgage, based in Lewisville, Texas.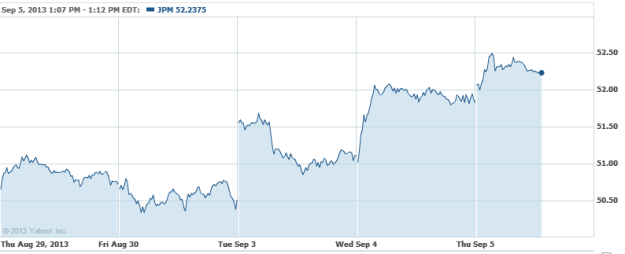 United Technologies Corp. (NYSE:UTX): Current price $103.71
United Technologies Corp.'s division UTC Aerospace Systems has been chosen by Aeroflot to provide the wheels and carbon brakes for its new fleet of 50 Boeing 737-800 Next Generation aircraft. UTC will supply the equipment through its Wheels & Brakes business in Troy, Ohio. The first aircraft should be delivered this month. The 737 Next Generation carbon brakes employ proprietary DURACARB carbon heat sink material, which provides exceptional brake performance and a 35 percent brake life advantage compared to competitive products.

Procter & Gamble Co. (NYSE: PG): Current price $77.07
The beauty icon Queen Latifah is now the new face of Pantene and will also support the Truly Relaxed and Truly Natural Collections of Procter & Gamble. Pantene says that it is proud to be partnering with Queen Latifah, who has been an inspiration to women for years.
Marketing Director of North American Hair Care at  Procter & Gamble Kevin Crociata commented that, "Queen Latifah not only exudes inner and outer beauty, but she is a brilliant business woman who shines in every aspect of her work. We believe her strong, playful personality and passion for life resonates with women. Her honest and approachable attitude makes her a perfect addition to the Pantene family. Women really listen to her, her opinion matters."

Don't Miss: Is America's Headline Unemployment Rate too Optimistic?