JPMorgan Sees Foreign Exchange Allegations Dismissed and 2 Other Dow Movers To Watch
JPMorgan Chase & Co. (NYSE:JPM): Current price $53.71
United States District Judge Lewis Kaplan has dismissed foreign exchange pricing-related allegations against JPMorgan and The Bank of New York Mellon Corp. Both banks were accused of overcharging clients in foreign exchange transactions: the individual lawsuits were linked with the "standing instruction" services related to FX trading. Through those terms, the clients of JPMorgan and BNY Mellon consented to the banks' determining the prices of FX transactions rather than negotiating themselves.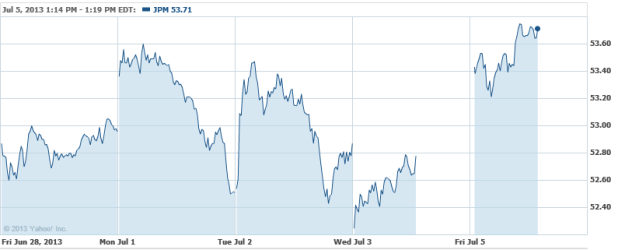 Procter & Gamble Co. (NYSE:PG): Current price $78.47
The world's No. 1 maker of consumer products is depending on one of Bollywood's top actors to help it combat Colgate Palmolive Co. and Hindustan Unilever, which together control 73 percent of India's toothpaste market. P&G began selling its Oral-B Pro-Health toothpaste in primarily urban centers in India in June and is now using the Hindi movie actor Madhuri Dixit-Nene to endorse the brand. Harish Bijoor, who advises companies on brands, told Bloomberg that by enlisting Dixit-Nene, P&G is targeting all age groups.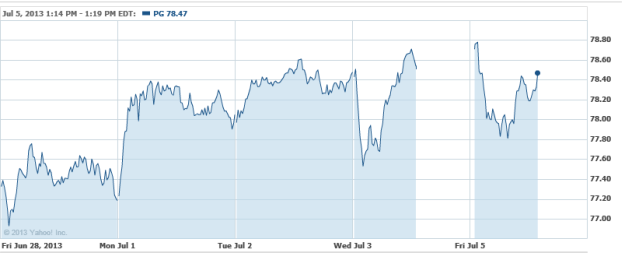 Verizon Communications Inc. (NYSE:VZ): Current price $50.98
Verizon's ex-dividend date is Monday. Shareholders as of the market close on Friday will be eligible for a dividend of 52 cents per share. Based on a price of $50.88 as of 9:51 a.m. Eastern Daylight Time, the dividend yield would be 4.1 percent. The average volume for Verizon has been 12.7 million shares per day during the past 30 days, and shares were up 17.9 percent in 2013 as of the close on Wednesday.