JPMorgan Sees Risk Office Shakeup and 2 Other Dow Movers to Watch
JPMorgan Chase & Co. (NYSE:JPM): Current price $53.61
Chief Executive Jamie Dimon said on Thursday that John Hogan, who became the bank's chief risk officer while it was just beginning the Big Loss in 2012, might exit the company. In a memo to employees that was viewed by Reuters, on Monday, Hogan will first return to work from a leave he had taken in January and will initially hold the new title of chairman of risk, according to Dimon, who also said that Hogan will be replaced as chief risk officer by Ashley Bacon, who had served as interim head of risk during Hogan's absence.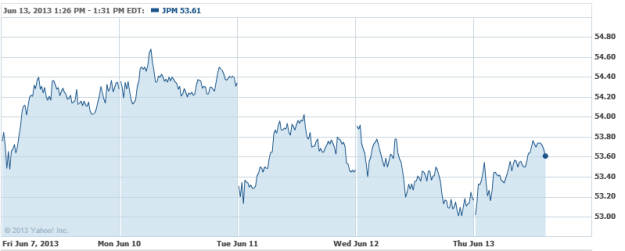 Alcoa (NYSE:AA): Current price $8.21
The Italian Industry Ministry announced in a statement on Wednesday that talks concerning the Swiss industrial group Klesch's potential acquisition of the aluminum maker Alcoa's plant on the Mediterranean island of Sardinia have stalled out. In 2012, Klesch presented a formal expression of interest in the aluminum smelter, which is being shut by Alcoa. The Ministry said that Klesch may be contacted again at a future date, and that it would be searching out other buyers at both the national and international level.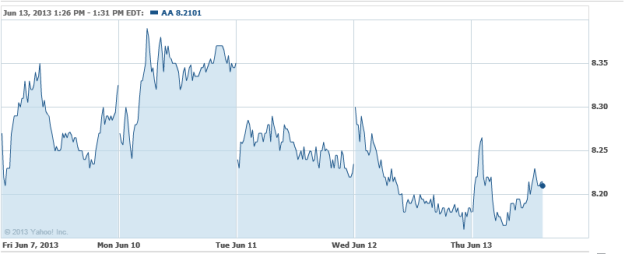 Caterpillar (NYSE:CAT): Current price $84.64
The Caterpillar equipment distributor Unatrac Holding, located in eight mainly African countries, has received a $700-million, three-year loan through which to fund operations and refinance existing debt, according to a statement released on Thursday. Unatrac, based in Dubai, said that it hiked the size of the revolving credit facility from $600 million, following its receiving pledges from lenders worth twice the target amount. Barclays, Citigroup and JPMorgan arranged the loan, which was joined by 12 other banks during a marketing period for the firm's debut syndicated loan. Nader Aboushadi of Unatrac revealed in an emailed response to questions from Reuters that the loan is set at an interest rate of 4 percent over the London interbank offered rate.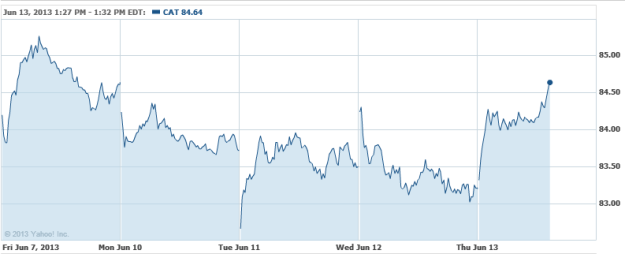 Don't Miss: JPMorgan Proves It's the Best Bank in Town.