JPMorgan Sees Syncora Suit Dismissed Upon Appeal and 2 Other Dow Movers to Watch
JPMorgan Chase & Co. (NYSE:JPM): Current price $54.56
On Tuesday, bond insurer Syncora Guarantee Inc.'s lawsuit claiming JPMorgan division Bear Stearns made false and misleading statements linked to a mortgage-backed securities transaction was dismissed by a Manhattan appeals court, Bloomberg reports. In June 2011, Syncora, based in Bermuda, sued JPMorgan, formerly Bear Stearns, in New York state Supreme Court in Manhattan over the transaction, known as GreenPoint Mortgage Funding Trust 2007-HE1. The appeals court in Manhattan on Tuesday dismissed the suit, ruling that Syncora is bound by its decision to first file the claims in federal court.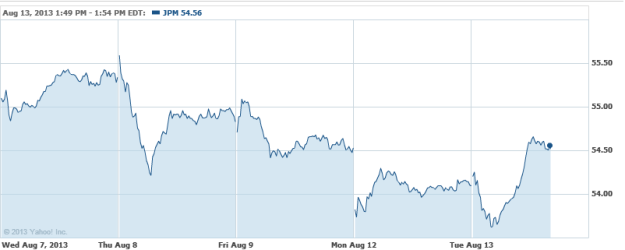 Travelers Cos. Inc. (NYSE:TRV): Current price $82.31
Travelers and its Northland Insurance division, working jointly with the Virginia Tech Transportation Institute, co-hosted a symposium in which research on a number of the top worries of the trucking industry were discussed with fleet managers and insurance brokers, the company said in a statement. The topics were chosen by a VTTI poll of fleet managers and concentrated on the impact of managing distraction, driver wellness, hours of service regulations, and new tech on safety.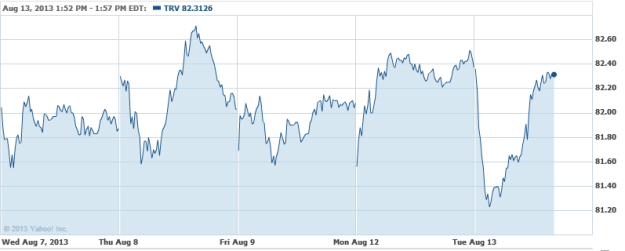 Merck & Co. (NYSE:MRK): Current price $48.44
Avanir Pharmaceuticals Inc. said Tuesday that it reached a multiyear accord with Merck to co-promote the latter's type 2 diabetes therapies Januvia (sitagliptin) and the sitagliptin family of products in long-term care institutional setting in the United States, according to a company press release. Peter Alberti, Merck's U.S. diabetes marketing leader, said: "As a company dedicated to the advancement of diabetes care, we are excited to partner with Avanir to help improve diabetes management and offer our type 2 diabetes therapies to this patient population. We believe that combining Merck's leadership in diabetes with Avanir's unique capabilities will help this growing population get the diabetes care they need."

Don't Miss: Why Is Novartis in Trouble in Japan?