JPMorgan Starts 2014 With This Multibillion-Dollar Settlement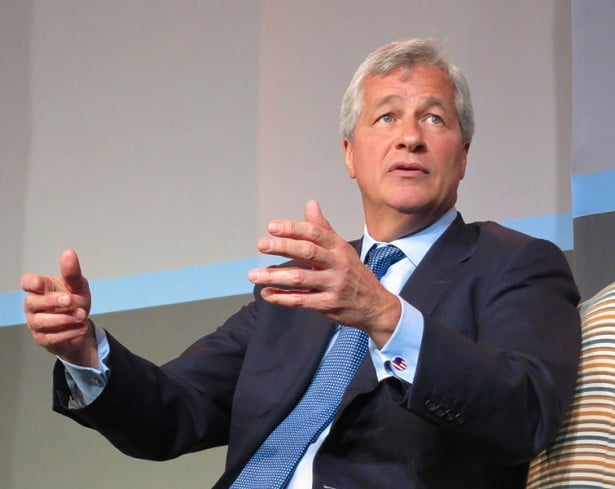 JPMorgan Chase (NYSE:JPM) rounded off 2013 with string of settlements that amounted to nearly $20 billion, ending investigations into the bank's sale of troubled mortgage securities in the years leading up to the financial crisis and 2012's London Whale scandal. The bank is beginning 2014 with yet another legal payout. After weeks of leaks from insider sources hinting at an impending agreement, the deal settling allegations that JPMorgan failed to warn regulators about Bernie Madoff's decades-long Ponzi scheme has been inked.
Given the sheer magnitude of the Ponzi scheme, federal prosecutors alleged that JPMorgan Chase, the Madoff's bank for more than two decades, should have have caught sight of the red flags thrown by his crimes. In April, a probe was launched to ascertain the extent of the bank's knowledge of the investor's criminal activities, and on Tuesday, federal authorities finalized a roughly $2.6 billion settlement of criminal and civil charges brought by several different agencies.
Of that sum, a non-tax-deductible payment of $1.7 billion will be forfeited through the Department of Justice, $543 million will be deposited into a fund for Madoff victims and other plaintiffs managed by a court-appointed bankruptcy trustee, and $350 million will be paid to the Office of the Comptroller of the Currency, according to a filing JPMorgan Chase made with the Securities and Exchange Commission on Tuesday morning. Another unit of the Department of the Treasury assessed separate penalties of $461 million for the bank failing to alert regulators about Madoff's criminal activities.
Under the terms of the settlement, JPMorgan made a so-called deferred prosecution agreement with the U.S. Attorney's Office for the Southern District of New York, which will suspend a criminal indictment for JPMorgan's violation of the 1970 Bank Secrecy Act, a federal statute that requires financial institutions to assist government agencies in detecting and preventing money laundering, tax evasion, or other criminal activities.
In return for the deferred prosecution of the bank's failure to maintain an effective anti-money laundering program, the company must overhaul its controls against money laundering and sign a "statement of facts" that details the financial relationship between Madoff and the bank, including that fact that JPMorgan did not file a suspicious activity report even after the second unnamed bank involved in the fraud concluded the investors was creating a "check kiting" scheme.
The federal government's probe is not the first to shine a light on JPMorgan and its alleged knowledge of Madoff's Ponzi scheme. Irving Picard — the court-appointed trustee charged with recovering assets stolen by Madoff — has long been pursuing bank executives at JPMorgan. His December 2010 lawsuit brought to light internal bank communications that indicated executives were aware that Madoff's investment strategy was actually a Ponzi scheme as early as 1997, years before the con began to collapse.
According to the complaint, obtained by the Washington Post, a Madoff employee would first withdraw between $1 million and $10 million from one unnamed bank and then deposit a check for the same amount into the investor's JPMorgan account on an almost daily basis. The following day, that same amount would be wired from Madoff's JPMorgan account to the first bank in order to make it seem like he had twice as much money during that time frame. That second bank found there was no legitimate purpose for those transactions and informed JPMorgan of that conclusion, according to the statement of facts.
A federal appeals court dismissed some of Picard's claims in June. However, emails produced by his lawsuit were pivotal in the federal government's investigation. One internal bank email written by a senior risk manager in London and sent shortly before Madoff's December 2008 arrest revealed that another bank executive "just told me that there is a well-known cloud over the head of Madoff and that his returns are speculated to be part of a Ponzi scheme."
According to the deferred prosecution agreement, that email was forwarded to JPMorgan's in-house and external lawyers, as well as the London-based head of anti-money-laundering activities for Europe. A U.K. compliance officer and a JPMorgan lawyer then discussed the need to file a report, the bank's global head of equities indicated support for "disclosure to U.S./U.K. regulators," and a high-ranking compliance officer in JPMorgan's U.S.-based investment bank was notified, but JPMorgan lawyers ultimately decided to close the case.
Federal regulators have not accused any individual executives of wrongdoing, and it should be noted that Madoff's Ponzi scheme was underway for decades without drawing the attention of regulators.
U.S. Attorney Preet Bharara of the Southern District of New York told reporters from The Wall Street Journal during a news conference following the settlement announcement that JPMorgan "failed miserably" as an institution in failing to warn regulators about Madoff, noting that the bank ignored warnings about the investor despite "plenty of reasons to be uniquely suspicious."
More from Wall St. Cheat Sheet:
Follow Meghan on Twitter @MFoley_WSCS