JPMorgan Strategist Says Bull Run Gets No Respect and 2 More Heavily Traded Stocks to Follow
JPMorgan Chase & Co. (NYSE:JPM): Current price $52.06
Commenting during CNBC's Halftime Report, JPMorgan's chief United States equity strategist Tom Lee remarked that the stock market's current bull run is not getting the respect it should. Lee said that, "This is a bull market people don't like, don't respect. I think individuals, especially high-net-worth individuals, have huge cash positions. I just think that right now stocks don't have any respect. I think there's a feeling that the best way to make money is through fixed income or real return instruments. And I think people are forgetting over time equities have been a great real return vehicle." Lee added that he expects a market tilt towards cyclical stocks.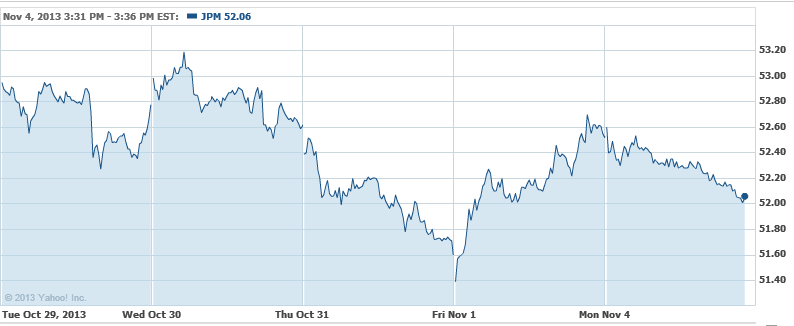 Delta Air Lines Inc. (NYSE:DAL): Current price $27.40
Delta reported on Monday that passengers flew more miles and a that key revenue measure moved slightly up year-over-year. The airline said that the 2-percent rise in revenue for each seat flown one mile was attributable to strong trans-Atlantic traffic and business travel in New York and Atlanta. The same number rose by 5.5 percent this September and also in October 2012. Delta's worldwide traffic increased by 1.4 percent in October, while passengers flew 16.26 billion miles, a number that includes fliers on Delta Connection regional flights.
Sprint Nextel Corp. (NYSE:S): Current price $7.05
Sprint and Mako Networks announced they are partnering to add the Mako System to Sprint's repertoire of solutions intended for retailers and distributed enterprises. Domestic customers may now buy Mako's solution integrated with Sprint's wireless service to connect, guard, control, and secure their data and payment transactions. The Mako System develops simple, secure Payment Card Industry Data Security Standard compliant networks for distributed enterprises (multisite firms), like retail chains or franchises.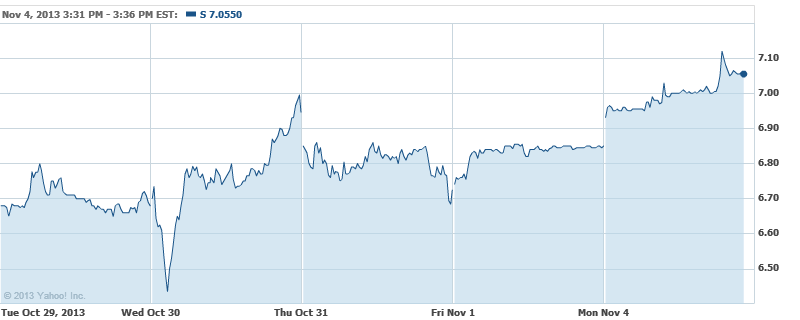 Don't Miss: JPMorgan's Regulatory Hole Deepens With Expansion of Hiring Probe.