JPMorgan Under New Scrutiny and 4 Morning Hot Stocks Moving Now
Toyota Motor Corp (NYSE:TM): Current Price $96.10
Toyota Motor Corp (NYSE:TM) has announced the recall of 907,000 vehicles due to faulty airbags and another 385,000 Lexus IS luxury cars featuring defective wipers. The cars with the airbags problem are mostly Corolla models manufactured between December 2001 and May 2004. Apparently, the airbags inflate on their own when the car's electronic signals damage a chip in the component that controls the airbags, according to a Toyota spokesman. In the other lot, the wipers get stuck in the event of heavy snowfall. Toyota had to pay up over $1 billion in settlements last month over an earlier recall relating to vehicles suffering from sudden acceleration issues.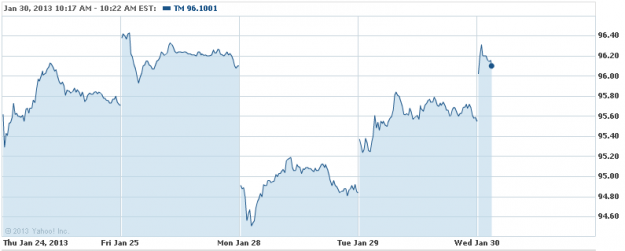 Boeing (NYSE:BA): Current Price $74.35
A report in the New York Times says Boeing (NYSE:BA) was aware of continuing problems relating to the lithium-ion batteries used in its 787 jets that should have raised red flags on their reliability. All Nippon Airways, which operates the biggest fleet of 787s, revealed in an interview Tuesday that 10 such batteries had been replaced prior to the problems that led to the grounding of the aircraft across the world. The problems in the batteries varied from unexpectedly low charges, starting problems, error readings and in one case, a complete failure. However the problems were not considered serious enough to be a safety issue and therefore, Nippon neither cancelled or delayed any flights, nor informed safety regulators. An investigation by the National Transportation Safety Board will take into account these replacements.

Are these stocks a buy or sell? Let us help you decide. Check out our Stock Picker Newsletter now.
Starwood Hotels and Resorts Worldwide Inc (NYSE:HOT): Current Price $61.77
Starwood Hotels and Resorts Worldwide Inc (NYSE:HOT) follows up on a highly successful brand wide revitalization and multi-billion dollar investment to enhance the Sheraton brand over the past several years with plans to open over 30 hotels of the powerhouse hotel brand over the next 12 months. Half of these new hotels will open in China, consolidating its market leadership as a upscale hotel operator in the Asia-Pacific region. With the 15 new hotels opening in China over the next 12 months, Sheraton would be on track to achieve the target of operating 80 properties China by end 2015. "The Sheraton growth trajectory in China has been nothing short of remarkable. For the fourth year in a row, Sheraton will open approximately half of its new hotels in China and demand continues to grow especially in second and third tier cities," said Hoyt Harper, Global Brand Leader for Sheraton."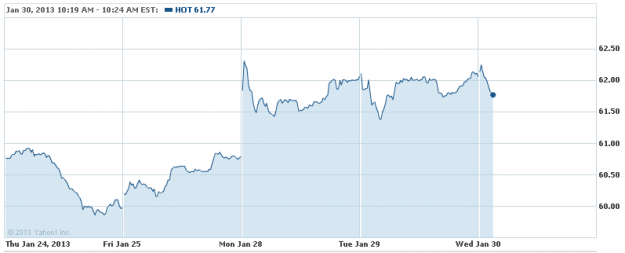 JP Morgan (NYSE:JPM): Current Price $47.11
In a surprising new angle to the massive $6 billion trading loss that emanated out of JP Morgan's (NYSE:JPM) CIO in London, now known as the London Whale scandal, it appears that traders within the bank's own investment bank took the opposite side to at least some of the trades put through by the CIO. This revelation is being investigated by the US Senate Permanent Committee on Investigations, and its report is expected to be released in the next few weeks. Interestingly this fact has not been mentioned in JP Morgan's January 16 report on the trading scandal.

Piper Jaffray (NYSE:PJC): Current Price $39.70
Piper Jaffray (NYSE:PJC) reports fourth quarter EPS of $0.88 and revenue of $140.9 million, beating by $0.21 and $11.03 million, respectively. "We produced solid results for the quarter and the year despite adverse market conditions facing several of our businesses," said Andrew S. Duff, Chairman and Chief Executive Officer. "Compared to the prior quarter, strong performance in M&A and public finance, and improved results in equities, more than offset weaker results in our fixed income trading businesses, while our equity capital raising and asset management businesses were flat sequentially."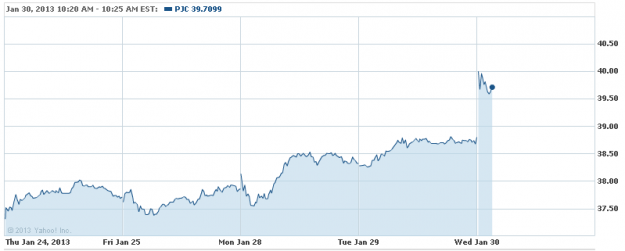 Don't Miss: Mr. Market Versus Mr. Buffett: Who Wins?