JPMorgan's Critical Vote, PetSmart Hires Bret Michaels, and 3 More Hot Stocks
JPMorgan Chase & Co. (NYSE:JPM): Shareholders representing 12 percent of JPMorgan's stock have yet to weigh in on a crucial decision that is on the verge of being put to vote, The Wall Street Journal has reported. The vote will determine sentiments on whether to split the chairman and CEO roles, currently one seat occupied by Jamie Dimon. Proxy advisory firms ISS and Glass Lewis have come out in favor of splitting the roles, although the measure did not pass when put to vote last year.

PetSmart (NASDAQ:PETM): PetSmart is stepping up its game, issuing new product lines of pet clothing, amid an already positive pet-spending climate. The new products will feature a neon, eighties-inspired theme. Why, you ask? Most likely, largely because Bret Michaels of Poison fame will be the face of the company's new campaign.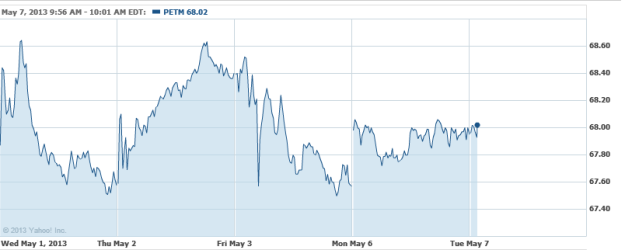 Oaktree Capital (NYSE:OAK): It was a huge quarter for Oaktree, which posted earnings of $1.95, beating projections by $0.41, and revenues of $593.4 million beating by a healthy $74.46 million. Additionally, outlooks are looking positive, too. "As we mark our first anniversary of being public, Oaktree's performance and prospects have never been better. The first quarter's records for adjusted net income, distributable earnings and the unitholder distribution reflect the strong cash generating capacity of our business. Plus, the substantial incentives created by the quarter's strong fund returns bode well for our future cash flow," said chairman Howard Marks.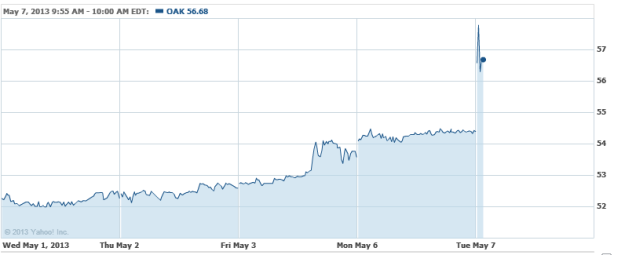 Chevron Corp. (NYSE:CVX): Production at the Frade field off the coast of Brazil will remain at a limited status, until regulators and the company can find out what the circumstances were regarding a second spill that occurred at the site. Chevron can drill shallow wells, take core samples, and perform the seismic work that it needs for a report on the spill, the Brazilian regulators said.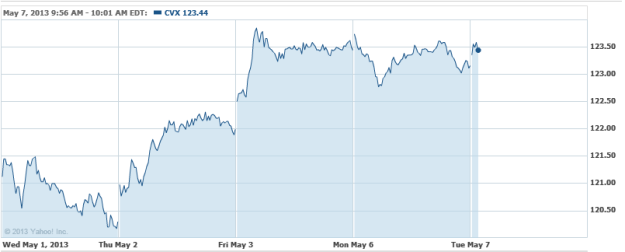 Arkansas Best (NASDAQ:ABFS): News that the company reached an agreement with Teamsters sent shares soaring on Monday, and although the stock has calmed since, it enjoyed a healthy pre-market performance. However, the buzz has caused some to see the adjusted price targets on the company as falling on the low end.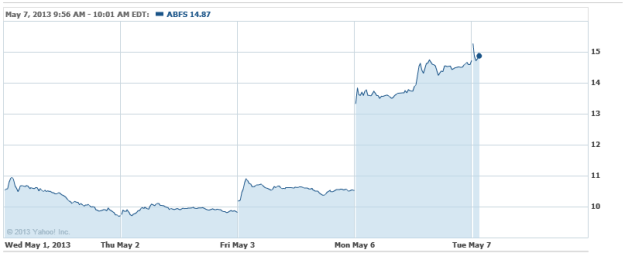 Don't Miss: 3 Reasons Why MasterCard Is In Pain and Visa's Smiling.